Ramai sangat yg tanya cara nak buat poll, so ari ni aku ada sikit masa.
Kalau ada kekurangan aku minta maaf yer...:67:
Ni tutor bergambar, so aku ambik sikit masa nak edit& up pic's dia ok....:5:
Ni antara yg aku akan letak kat soalan poll tu....
1.Saya Seorang Lelaki
2.Saya Seorang Wanita
3.Saya Pondan
=============
Step 1. Klik New Thread.

Step 2. Kat Ruang Additional Options, Post a Poll, tick Yes, post a poll with this thread
,Ruang Number of poll options:aku letak 3
Step 3. Klik Submit New Thread. (kalau nak view klik Preview Post)
Step 4. Sekarang Anda akan nampak Ruang:Post a Poll. Isikan ruangan kosong tersebut
Poll Question:Siapakah Anda?
Maximum: 16 . aku letak 3
Poll Options
Option 1:Saya Seorang Lelaki
Option 2:Saya Seorang Wanita
Option 3:Saya Pondan
Poll Timeout
Close poll [aku letak 20 hari] selepas 20 hari poll ni aku closed otomatik.
Miscellaneous Options
tick ni utk :Allow multiple choice: Give users the ability to select more than one answer
tick ni utk :Make votes public: Displays all users who voted, and what choice they voted for.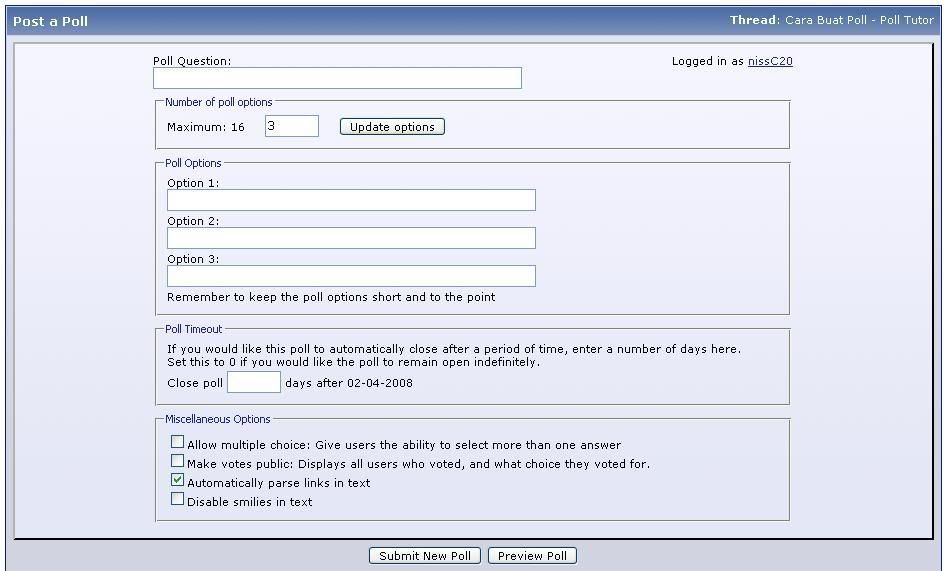 Step 5. Klik Submit New Poll
Selesai..:103: