Microsoft's odd petent, cryptocurrency using body activity data
April 25, 2020 by Martin Sukhor
100
Recently in the coronavirus pandemic, Microsoft patented cryptocurrency using body activity data. Some people call it Microsoft's odd patent, body activity data. Patent number # WO2020060606 explains cryptocurrency using body activity data. Some sources state that the purpose of cryptocurrency using body activity data is to utilize the body's activities to carry out bitcoin mining.
Recently in the coronavirus pandemic, Microsoft patented cryptocurrency using body activity data.
Some people call it Microsoft's odd patent, body activity data.
Patent number # WO2020060606 explains cryptocurrency using body activity data.
Some sources state that the purpose of cryptocurrency using body activity data is to utilize the body's activities to carry out bitcoin mining. That along has been using large amounts of electricity.
But is the use of the patent only for mining?
Some people think differently about this because according to them the real purpose is to use digital signatures on all humans.
And if this is true then it is a big and global job, because all humans need to use this digital signature.
In addition at this time Bill Gates is accused by a conspiracy that he made this coronavirus to cause problems.
After a problem arises he comes to giving a solution, which in the end the control is under their hands.
Work from home, start trading forex with TenkoFX, forex,crypto,CFD.

TenkoFX has positive feedback of reviews from traders and are regulate by IFSC Belize

Open an account or try Demo account.
Cryptocurrency using body activity data
Citing from Patentscope states that human body activities can be used for use in the cryptocurrency mining process.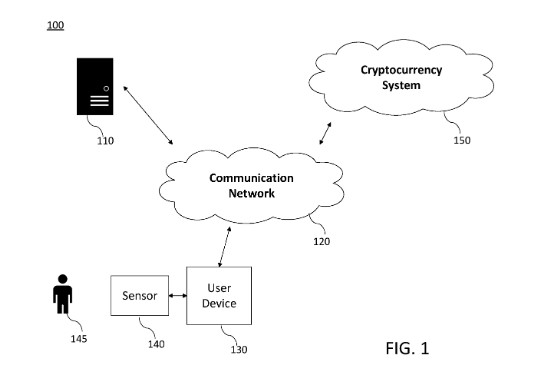 It can be done by using a server that can assign tasks to user devices and then by connecting to the server.
Meanwhile, to feel the activities of the body using a sensor that is linking communicatively with the user's device
Through the sensor, body activity data will appear base on the body's activities felt by the user.
Then the communicative cryptocurrency system integrates into the user's device.
If the body activity data meets one or more conditions set by the cryptocurrency system.
Then he will be able to verify the cryptocurrency transaction and will get a cryptocurrency reward to users whose body activity data is verified.
So with a verified digital identity that users can get a cryptocurrency reward through mining.
Furthermore, the patent was also issued under number US20200097951.
In this number, the explanatory details are the same.
But with different tables that describe in more detail how this system works.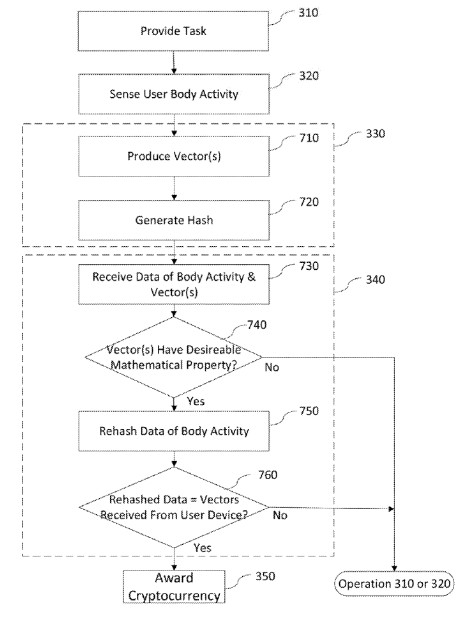 From the picture above we see the order of user tasks to get a cryptocurrency reward through several stages of verification.
If the activity body does not meet the system criteria, it will not receive a reward.
So it is possible if not everyone will get a reward because it is hampered by incomplete verification.
What is the goal to use body activity data in cryptocurrency?
This is a cryptocurrency mining system that uses human pulses.
Such as brain waves and body heat to perform online tasks such as using search engines, chatting, and reading advertisements.
In fact, it is a very brief description of the brain's computer interface.
It can read and write electromagnetic signals from the brain at a level so subtle that the brain actually becomes a biocomputer in a network.
Martin Rijland said in his writing that the purpose of the patent cryptocurrency body activity data.
It to implant in the minds of humans that it seems that crypto mining is currently consuming a lot of energy but now it can be done by 'human bio-computer'
The unique thing about the blockchain payment system is that as soon as you pick up a wallet on the network.
Your computer forms a block on the network, where your computer receives a kind of calculation program that calculates a coin security key.
All computers in the network must then come with the same key as confirmation.
So if the entire network sees a transaction from a coin.
All the keys are check and if something strays, the transaction is illegal and reject.
But will mine with body activity data work well? considering that mining currently requires a large amount of power?
Is it true that Bill Gates will use microchips for all humans?
Since the 2015 Bill Gates video speech that once reminds about infectious diseases that are bioterrorists.
And turns out this really happened in 2020 which is the year of twins.
Combined again with Microsoft which even though Bill Gates left this company but he is the founder of Microsoft which has a great influence, which registered patent # WO2020060606
(Some people say that WO stands for World Order)
It seems to be a series of events that are interconnected with current conditions.
Especially in a Reddit forum he once mentioned using digital certificates to find out whether someone has received a vaccine or not.
This, of course, makes the conspiracy accuse that the current condition which makes many people fear is a plan from secret society to change the world order of life into a new system.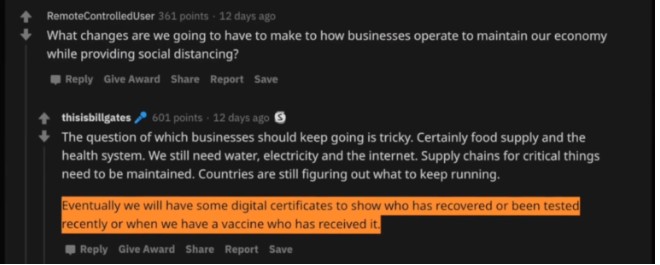 Some people who believe in this conspiracy believe that giving vaccines there will also be embedded with a digital signature.
In addition to knowing the virus but also has another goal to monitor all activities through the cloud.
These conspiracies linking with the Anti Christ by quoting several verses in the Bible.
But not everyone believes in this conspiracy, and those who deny this conspiracy are written at snopes.com by Alex Kasprak.
In his writing, he said that Gates had never funded research into vaccine development – for COVID-19. To make injection devices that could actively track locations or monitor anything that humans do.
But the Bill and Melinda Gates Foundation funded a pilot study conducted by MIT researchers and Rice University. For a potential vaccine delivery device that can provide an invisible sign that smartphones can detect.
He added that this study was still in theory.
Gates's basic premise is simple: This will involve a kind of storage of medical documents or cloud-based personal identification. That can only be accessed with the owner's consent but is available anywhere in the world.
And this has nothing to do with blockchain and cryptocurrency.
Should I accept cryptocurrency body activity data? and vaccines for COVID-19?
In this context it is good to be vigilant, although some have denied the Covid-19 conspiracy, however, there is a possibility that a large scenario behind this could happen.
We may have heard about the New World Order in the speech of George Bush in 2012.

So it is still possible for this secret society to continue their efforts to change the world system in a new world order according to their goals.
It is true that the cryptocurrency body activity data is very interesting, but is it important for humans? if it will only benefit a handful of groups, then it is not important to use this technology.
As humans we have a choice, we are free to determine our way of life, without coercion using a vaccine that has a digital signature embedded in it to monitor our health.
But if for example using this vaccine is mandatory for everyone and is international law, then inevitably you have to obey it if you want to be able to travel freely to other countries.
Willingly or compelled you must comply with international rules for freedom of movement because only with a digital ID you will have access to health in all regions of the country.
Final thought
Bill Gates is indeed the richest person in the world, but is it really Bill and Melinda Gates' organization that is purely generous and has no business interests at all?
Until now I still think that human nature is greedy, Bill Gates is no exception. although the name is philanthropic if it is the main purpose hidden behind the word it's really unfortunate.
Moreover, he became the main WHO financier after Trump cut funding for WHO, of course, this is a strong collaboration to provide vaccines with digital ID throughout the world.
Currently seeing conflicting information about the Gates foundation.
Some claim that Gates is purely doing for the good of humanity, but there is also a conspiracy which states that the covert agenda is carried out by Gates to build a new world order.
So the best course of action is to be vigilant, with all the possibilities that can happen.
Crypto trading
Open an account or try Demo account.
Related article

Bill Gates as target theory conspiracy coronavirus pandemic

Crypto Securities Exchange (CSX)

Cryptography and network security

Introduction to blockchain technology