What are pestle analysis in business
March 19, 2021 by Martin Sukhor
447
In the science of marketing, pestle analysis is a method that is an important part of success. Pestle analysis is a concept in the principles of strategic management. This concept is applied as a tool to monitor the company environment in which they operate or plan to launch their products and services or to anticipate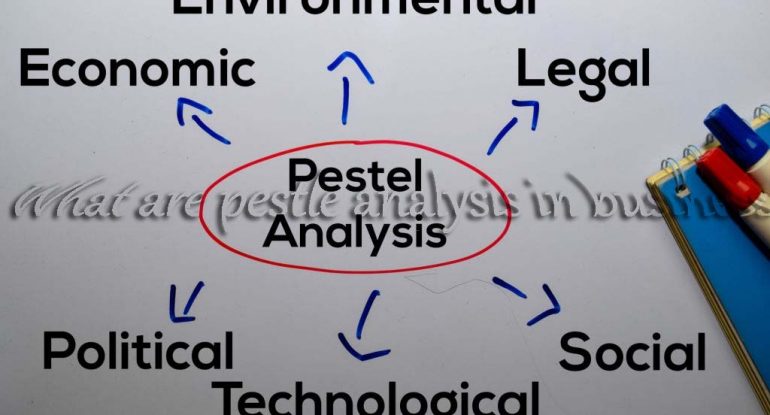 In the science of marketing, pestle analysis is a method that is an important part of success.
Pestle analysis is a concept in the principles of strategic management. This concept is applied as a tool to monitor the company environment in which they operate or plan to launch their products and services or to anticipate macro situations that affect the company's situation.
For corporate marketers, pestle analysis provides a fresh take on the macro environment from the many perspectives that businesses want to examine when developing a particular idea or plan.
This analysis provides an insight into the external factors affecting their organization. The analysis itself is flexible enough that organizations can use it in all kinds of different situations. The results of this analysis can be used as guidance for strategic decision-making for the company.
Best TenkoFX broker. Good forex Brokers with positive feedback of reviews from users and are regulated by IFSC Belize
Open an account or try a Demo account.
Pestle analysis definition
Pestle analysis is a strategic management tool used to identify, analyze, regulate and monitor the main external factors that can impact a company.
These impacts can occur both now and in the future. As a strategic management tool.
Pestle's analysis by examining the possibility of opportunities as well as threats that arise from the power of external factors including politics, economy, social, technology, law, and the environment.
The results of the study are then given to the internal company to serve as the basis for planning and strategic decision making.
In a more concrete understanding, pestle analysis is one of the concepts in marketing principles, which aims to track external factors that affect the scope of the company's business operations. Generally, companies need this analysis when planning to launch a new product, service, or project to market.
What does pestle analysis stand for?
Pestle stands for Political, Economic, Social, Technological, Legal, and Environmental.
Pestle analysis can help provide a broad picture of the business environment as a whole from various points of view. In addition, this overview will also help your organization design a competitive plan and even outperform your competitors.
The results of the analysis pestle can then be linked to the SWOT (Strength, Weaknesses, Opportunities, and Threats) to see the various advantages and opportunities available for the organization to develop, as well as any threats that need to be anticipated or minimized to make it more competitive in the company's business sector.
Pestle analysis diagram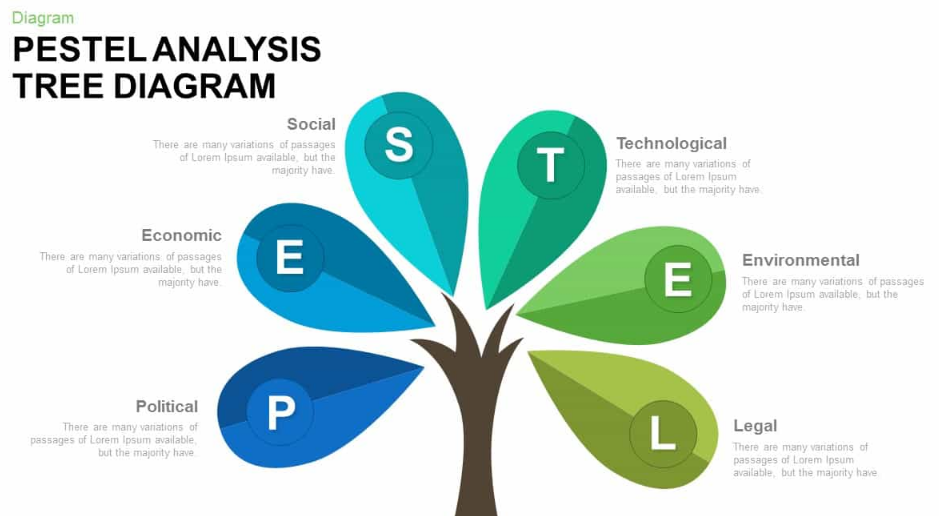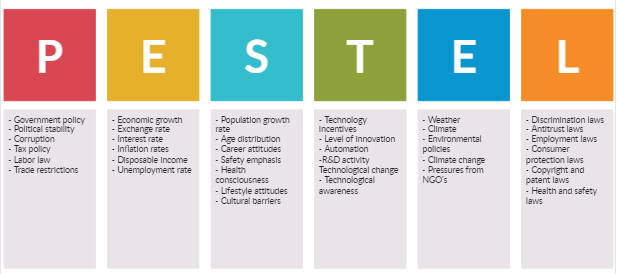 The pestle diagram can help make it easier to analyze a business that can be used for:
Assess the condition or status of the company, then develop and monitor strategy implementation.
Plan and launch an investment project for entering new markets, etc.
Is pestle analysis internal or external?
Pestle analysis refers to environmental factors external to the company. This is different from Swot analysis, which is an internal company analysis.
But both are important analysis tools for planning company goals. Swot stands for strengths, weaknesses, opportunities, and threats which is an internal analysis.
Meanwhile, pestle analysis is an analysis in terms of political, economic, social, technological, legal, and environmental which are external factors.
Using both analyzes depends on the needs so that the best planning can be achieved.
How does pestle analysis help a business?
External factors in the pestle analysis, such as seeing how the political conditions in a country, or the region where the company will operate, can provide an idea of ​​the strategy to be implemented.
An economic analysis by looking at the economic strength of the population of an area can also help companies to plan trading strategies by adjusting to the surrounding environment.
Analysis of the legality of a product in a region is also information that helps companies market their products because maybe one product is prohibited in certain regions but is allowed in other regions.
The social analysis also helps companies in developing their products, so that they can follow social demands with the aim of togetherness in society.
Technological analysis can assist companies in estimating the strength of production which has an impact on the ability to deliver supplies to customers
The environmental analysis will also help the company plan a strategy that is environmentally friendly so that it does not harm the surrounding environmental conditions.
How pestle analysis is conducted
To do a pestle analysis, you can follow three important steps that are interrelated one step to the next.
Know all categories
This is the first step, knowing all the parts in Pestle analysis that there are six main parts, that are Political, Economic, Sociocultural, Technological, Legal, and Environmental.
Political
Political factors relate to government policies that can affect a particular economy or industry.
For example, the cost of taxes by the government on the entire organizational structure can affect changes in the level of income or profitability of the company. The higher the tax, the lower the company's income and profits.
Political factors include tax policy, fiscal policy, trade tariffs. Also, government policies relating to levies in the fiscal year will affect the business or entirely economic environment.
Economic
Economic factors are economic conditions that directly impact the company. This is often a factor that has a surprising impact on the long-term impact of the company's business activities.
Economic conditions, such as a high inflation rate, will be used as a reference by companies in determining prices for their products and services.
Because high inflation will also have an impact on consumer purchasing expenses.
In order to survive the threat of economic factors, companies need to study and analyze inflation level, interest rates, foreign currency exchange rates, economic growth patterns, and so on.
In addition, this analysis also takes into account foreign direct investment, depending on the specific industry doing it.
Sociocultural
Sociocultural or better known as social, are external factors that refer to the social sphere.
For example, culture, population level, demographics, and others. Companies must pay attention to these social factors in order to implement a suitable strategy as momentum to enter the market.
Technology
The technological factor is very important in the pestle analysis step.
Understanding the technology will help the extent to which companies can adopt technology so that its existence can be longer.
Technological factors refer to innovations in technology that can affect industrial and market operations. This technology deals with automation, research and development, the level of market awareness of technology, and so on.
When the market is ready, it is even able to adopt technology, but the company is not able to facilitate its products and services with this technology. As a result, the company's customers are gradually moving away from the company.
For example, technology in the banking industry is currently using sophisticated technology. Even opening a new savings account can be done online via an application installed on a smartphone, so customers don't have to come to the bank office and queue.
If a company engaged in the banking industry is unable to provide these technological facilities and services, then the threat is to be left by customers who switch to other more sophisticated bank services.
Legal
The legality factor is related to legislation that can affect the business environment.
This legality has both internal and external sides. Where there are certain laws that affect the business environment. And there are certain policies adopted by the company itself.
The analysis of the factor of legal force takes into account both angles and then maps out a strategy based on the applicable legislation. For example, laws and regulations on consumers, safety standards, labor, investment, and so on.
Environmental.
Environmental analysis is important for certain industries such as tourism, agriculture, and others.
The factors of the environmental analysis can be on climatic conditions, weather, geographic location, global climate change, and others.
With environmental analysis, the company can plan the right marketing strategy in relation to the launch of new products or services in the right situations and conditions as well.
Make a research
This is the second step after understanding all the categories in pestle analysis. The research will carry out by finding sources of information about which categories can affect your business.
Get to know your business first so then do some research in pestle analysis to get some important information that has an impact on the business.
You need to get information from relevant sources in the analysis category. For example, you are doing research for economics, look for sources from trusted institutions.
Put all together
After all the information from the six categories in the pestle analysis has been completed, this will be the third step, which is to put all information together.
You can start writing an analysis report by making a diagram, or by creating an analysis table consisting of.
Make six categories as the core of the analysis with each category divided on the relevant information.
In the report, you can make introductions and conclusions so that it makes it easier for readers to understand the results of your analysis.
Why is pestle analysis important?
As a framework, pestle analysis is very important because it has many benefits in 'reading' a variety of business planning situations.
Planning Business strategic
The pestle analysis report is useful when a company is about to start a business planning process. The analysis result document will provide contextual information to the management team regarding business direction, growth targets, branding, and risks that might reduce productivity.
Not only that, but the results of this analysis can also help determine the validity of existing products and services, as well as new product development.
Employee planning
Employee planning is a business process to align business strategy with human resources.
The results of the analysis can help identify changes in the business model that are likely to have an impact on employment in the future. For example, changes in the workforce, skills gaps, job role creation, job reduction, or job movement.
Product development
Pestle analysis also involves insights and opinions from experts, who provide views and opinions based on their knowledge and experience about external factors that affect the company.
Therefore, this analysis can help companies decide to enter or leave the market, determine whether the company's products or services still meet market needs, or when to launch new products.
What is pestle analysis used for?
Pestle analysis is used to assess the viability of new ventures. Besides that, it is also to find opportunities and threats that may arise at a later date.
Assess the viability of new ventures
By utilizing data or information from Pestle's analysis, an entrepreneur will be able to consider a plan for the long-term viability of business continuity.
Finding opportunities and threats
Business conditions can change, using pestle analysis, through prediction or forecasting, to minimize threats that may arise in the future.
For example, the small political conditions can affect the threat of regulation, this can be the initial anticipation of the threat.
Pestle analysis example small business
Example of pestle analysis at Carrefour retail company. From Wikipedia that Carrefour is the second largest retail company after Wal-Mart. Which opened for the first time on June 3, 1957.
In several countries, Carrefour has become a shopping destination for many families. But what are the conditions after the Covid19 pandemic hit.? Can you face the current market situation? Let's try Pestel's external analysis.
Political Factors in Pestle analysis
Political conditions before the presidential election began to heat up, political problems in the internal area were still rowdy.
This condition can cause losses for the retail business, including Carrefour. With this outbreak, there is no guarantee that the government will provide policies that can immediately increase the purchasing strength of the people.
Economic Factors in Pestle analysis
The existence of the COVID 19 outbreak has caused many companies, especially start-ups and downs, to go bankrupt.
As a result, mass layoffs occurred everywhere. According to the labor ministry, about 2 million people were laid off and sent home. This of course significantly reduces people's purchasing power.
Social Factors in Pestle analysis
The social factors of the community due to the corona outbreak have caused a positive side to the person, they keep maintaining health and being careful.
However, this has actually become negative for the retail business. Due to the nature of prudence and social distancing policies, the retail business sluggish buyers.
Technology Factor in Pestle analysis
Digital growth and the outbreak of the coronavirus have forcibly shifted offline sales to online. This makes offline retail businesses less desirable.
However, this is also a great opportunity for retail businesses to innovate in online sales. Carrefour is one of them. They launch a Home Delivery service. which customers can access through the website. So that consumers will receive their orders at home.
Environmental factor in Pestle analysis
Again, due to the corona outbreak, almost all business sectors have become sluggish and closed.
Legal Factors in Pestle analysis
The retail business finds it easy to establish. Previously, retail store establishments had to meet the requirements of the Spatial and Regional Planning Detailed Spatial Plan, and Zoning Regulations.
Pestle analysis advantages and disadvantages
Advantages
Can provide an understanding of the business environment on a broader scale. So that it can encourage the development of external and strategic thinking.
Capable to anticipate future business threats so that you can take steps to avoid or minimize their impact.
Make it easier to see business opportunities and take advantage of them.
Disadvantage
Users who oversimplify the amount of data used for decisions with insufficient data.
Possible risks due to too much data can lead to analysis error bias.
Possible data based only on assumptions without concrete evidence.
The pace of change makes anticipating developments that might affect the organization in the future even more difficult.
To be effective, the process needs to repeat regularly.
Final thought
In a business making pestle analysis is something important and helps traders find customers.
But in a business one is not sufficient for external analysis, which uses Pestle analysis. But it is also important to include an internal analysis via a SWOT analysis.
Ready to start trading forex, crypto, and CFD?
Open an account or try a Demo account.
Read more article

Introduction to exchange-traded funds (ETF)