Forex alozard strategy
November 17, 2020 by Martin Sukhor
16
Forex Alozard Strategy may not be very well known, it is different from forex strategies such as Elliot wave, carry trade, martingale, and so on. And this is the beauty of forex because there are various kinds of strategies developed by traders with trading concepts that are their own ideas. Forex Alozard's strategy is manual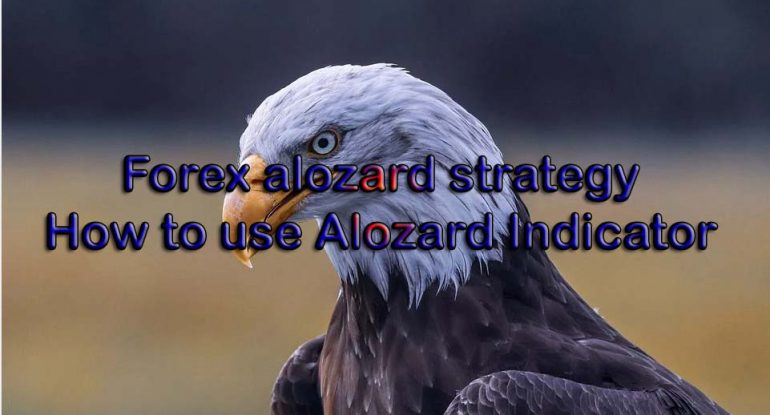 Forex Alozard Strategy may not be very well known, it is different from forex strategies such as Elliot wave, carry trade, martingale, and so on. And this is the beauty of forex because there are various kinds of strategies developed by traders with trading concepts that are their own ideas.
Forex Alozard's strategy is manual trading using the Alozard indicator in determining entry points as trading signals. If other indicators are claimed, often repaint, an Alozard indicator does not repaint.
Adding information as a repaint indicator is a signal that has appeared but disappears again if the price moves back to normal.

Best TenkoFX broker.
Good forex Brokers with positive feedback of reviews from users and are regulated by IFSC Belize
Open an account or try Demo account.
Introduce
It is not known exactly who founded the Alozard strategy indicator, but it seems that the first time this indicator was created for the purpose of being sold, to traders who want to try the indicator's performance.
So if anyone having interested to use indicators they need to spend some money from their own pocket. In a certain marketplace, this indicator offered for approximately $17 to get the file indicator.
Referring to several sources, this indicator seems to have been created by a team of programmers from forexprofitkeeper.com.
Even so, it turns out that there are other sources that share this Alozard indicator for free, maybe it has been cracked by other programmers and distributed for free.
If you are interested in the free version of this Alozard indicator I will share it in this article, so continue reading.
How forex Alozard strategy works
It is known that this indicator was actually created for binary options trading, but because it is also compatible with the MT4 platform, many traders also apply it to forex trading.
This indicator consists of four indicators which are one package in the Zip file and one template file which can be attached in the template folder.
So in one package Zip consist:
Template.
Indicator.
Pdf file.
In indicator file consist 4 indicator file:
Best timer.ex4
ProfitableStrategy_16.ex4.
Forex Alozard indicator.ex4.
Forex Alozard Heatmap.ex4.
Below is a chart with four indicators and the second bottom image is a chart using a template.
This is a chart with a calling indicator manually.

This chart calling indicator using a template.

The heatmap indicator gives you the percentage change in the currency pair. This gives you a reference for which pairs had major changes.
Meanwhile, the Best Timer will appear near the last candlestick of the price, providing information in percentage to determine the best time.
The profitable strategy is market session information to calculate the time difference in each session.
Indicator Alozard is a trading signal of this indicator.
Alozard strategy feature
Alozard strategy indicator is designed by programmers to offer several features that are the mainstay of its marketing.
This indicator serves to detect trend continuation or trend reversal. This is the main feature which is the signal in the form of a star that appears on the chart when it is confirmed.
An interesting offering of the indicator feature is that the initial trend will begin so that traders can determine the best time to open a position.
This feature also functions to predict when the price is preparing for the upcoming market reversal.
This Alozard indicator does not repaint. So that once the signal appears on the chart, it doesn't disappear even though the price moves against it.
Apart from that, the indicator is claimed to work in trend trading and the mode of trading against the trend.
Alozard strategy trading rules
This Alozard indicator does not have specific rules, but we can develop the use of indicators so that we find the best strategy with accurate signaling.
Like other indicators in general, this can also be used for scalping and swing trading. So you are free to choose which timeframe to use, usually low timeframes suitable for scalping, and high timeframes for swing trading.
In simple terms, the rules of using the Alozard indicator traders are just waiting for the indicator signal to appear. If you buy original software, you may be guided on how to set up alerts to email, or mobile phone so that when the indicator gives a new signal, it will be notified via email or SMS notification. But if enough use default alert it will notify alert sound on your platform.
However indicators are only trading tools, they do not always give the best accuracy, so steps to manage risk are also very important.
Even the rules regarding risk management and money management are the most important things in forex trading.
How the main rules
Buy signals appear when a yellow star appears after a downtrend, this functions as an indication of a trend reversal so that early detection is expected to get the best entry.
Meanwhile, a Sell signal appears when a red star appears after the price is in an uptrend.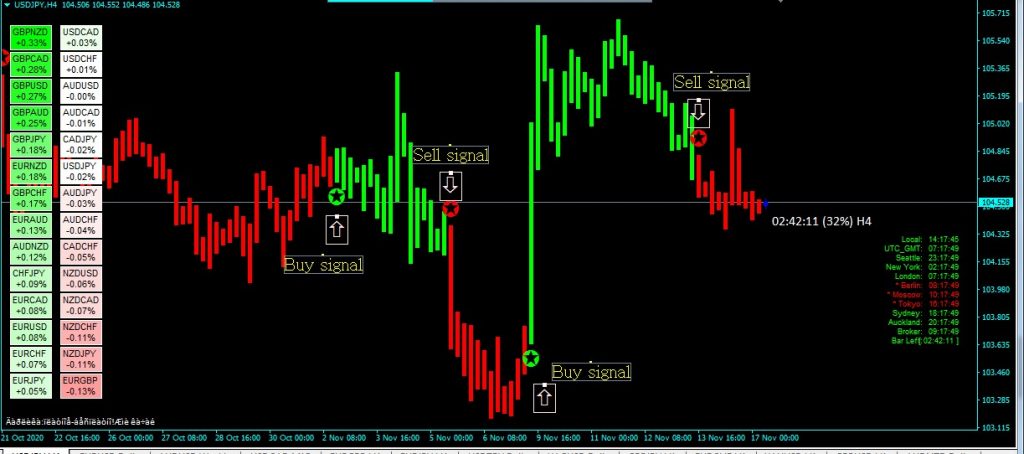 From the image above we can see, buy signal appears two times, but the first signal is less valid because after the alert appears then the price still moving down, but eventually arise,s and to determine target profit, its need consideration with the pattern candlestick.
The second buy signal gives a good accusation, the pair move uptrend strongly, and you get maximum profit.
Meanwhile, the sell signal appears two times also. And accuracy signal is good. The critical point is you should exit if the signal gives a false alert, and the target should flexible based on the chart pattern.
How to install forex Alozard strategy
This Alozard indicator is a third party creation, it is not included in the default MT4 indicator, so if you look for it on the platform you will not find it.
Maybe after reading the description above, it finally makes you interested in trying the performance of this indicator.
To install this indicator, your first step is to download the indicator file. It's up to you. If you want to buy Alozard this indicator. You may find several sellers offering different prices.
On Forexprofitkeeper it is sold for $ 37, while at forex4shops.com it is offered for 9 euros. There are other seller sites that offer for $ 17.
But as I promised earlier, that there is a free Alozard indicator that can be used, which I will share with you.
I got this indicator at the forex station, and then tried it on my platform, with a display in the chart as shown above.
You can download the Alozard file Zip here, or directly download it from the forex-station.
After you download the indicator file, then extract the file into any folder. For the indicator file, place it in the indicators folder in your platform file folder.
And the template files are placed in your templates folder.
Here the step
Extract file Template and indicator in any folder.
Run your platform MT4, and click File on the left top menu.
Open data folder go templates folder.
Copy file Forex Alozard Templates. tpl then paste in folder templates
Back to the data folder and go to MQL4 and click it then choose the indicator folder.
Copy all indicator and paste in indicator folder.
Now you can attach all indicators manually or use templates to call in the chart.
Forex Alozard strategy example trading
Using the Alozard indicator is very easy because traders only need to wait for a trading signal to appear which will alert you when a new signal appears.
Below is just an example of applying the Alozard forex indicator strategy to the EURUSD pair. By using a strategy tester MT4.

The appearance of an Alozard signal occurs after the price trend rises and then consolidates, according to the main rule with the appearance of a Sell signal, the trader opens a short position and places a stop loss above the swing high.
Then we see if after the sell signal appears the price will actually go down? In testing using this strategy tester, it turns out that the price has actually dropped, as shown in the picture below: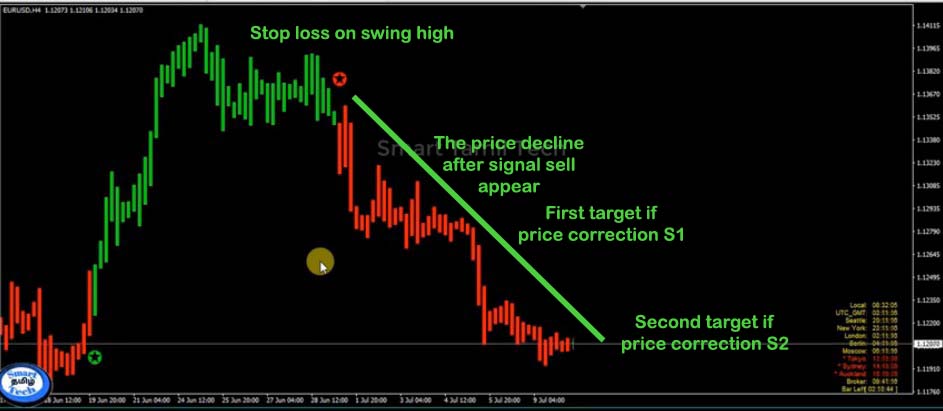 Even without using other indicators, the signal generated by this Alozard indicator can be said to have good accuracy. Just how to manage risk and determine profit targets.
In the example above we have a two-position scenario after the signal appears, then determine the target point when the price starts to consolidate at S1.
Other positions are left and after the consolidation of S2, this is the right time to close positions. It's a good idea to modify the stop loss to lock in a profit on this second-order so that if it fails you still get a profit.
Can I use another indicator as a combination?
Basically, all indicators can be combined with other indicators to provide a better signal filter. Even using the Alozard indicator you can combine it with other indicators, as in the example below we combine it with MACD.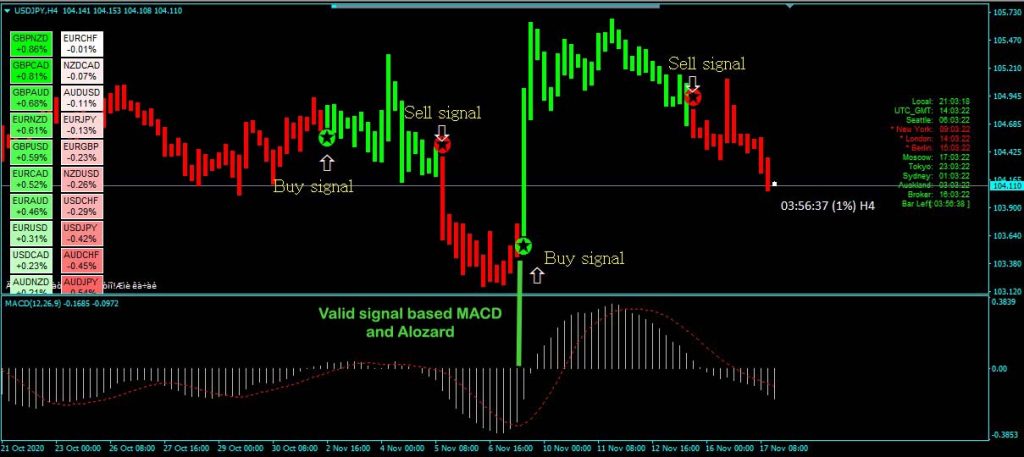 By adding the MACD indicator, you will only get one valid signal that converges between Alozard and MACD. However, the signaling provided is more accurate by combining with MACD. It also prevents you from over trading, so the risk is minimal.
Apart from MACD, you can also experiment with other indicators, to test indicator combinations you can take advantage of a demo account, or use a trading simulation with a strategy tester.
Alozard strategy pros and cons
Basically, there is no perfect indicator, each indicator has advantages and also imperfections. Alozard indicators are included, it has its own pros and cons in user practice.
Pros
Including non-repaint indicators.
Alozard indicator is very easy to use for both beginners and experienced traders.
This indicator will provide notification alerts after the appearance of a new signal. So when you are not focused on your screen, there will be a sound alert telling you a new signal appears.
Suitable for all timeframes, both low and high, so it can be used for scalping and swing trading, or intraday trading.
Signal accuracy reaches 60-80 percent.
HeatMap indicator of reading the changes of many pairs.
The chart appearance has become more attractive.
Cons
Low spec computers may slow down MT4 response.
Sometimes the signal isn't perfect.
Not suitable for aggressive traders, as signals appear rarely. If you like scalping you have to be patient.
The chart turns into a bar. It's hard to find open and close prices.
Conclusion
Alozard is a binary options indicator that can be used in forex trading. The Alozard indicator provides a Buy signal when a yellow star appears, and gives a sell signal when a red star appears.
An important note in using indicators is experience and understanding. Some of the mistakes of beginners include changing other indicators when one indicator experiences one or two failures.
Are you ready to start trading?
Open an account or try a Demo account.
Read another article you may interested