Top Cryptocurrency Exchanges in India
December 19, 2020 by Martin Sukhor
93
5 top cryptocurrency exchanges in India serve the public in access to trading and buying and selling cryptocurrencies. India is one of the countries that Coinmarketcap reports to be one of the countries experiencing the largest cryptocurrency trading growth. Besides India, there are also Pakistan, Colombia, Canada, and Nigeria. Meanwhile, the countries with the highest

5 top cryptocurrency exchanges in India serve the public in access to trading and buying and selling cryptocurrencies. India is one of the countries that Coinmarketcap reports to be one of the countries experiencing the largest cryptocurrency trading growth.
Besides India, there are also Pakistan, Colombia, Canada, and Nigeria. Meanwhile, the countries with the highest growth of female users are Greece and Romania.
The growth of cryptocurrency users in India is inseparable from the large number of teenagers who have internet access so that they become familiar with cryptocurrency. Teenagers usually have high enthusiasm for something that makes them interesting.
Because cryptocurrency is a digital currency that offers advantages over flat money.

Best TenkoFX broker.
Good forex Brokers with positive feedback of reviews from users and are regulated by IFSC Belize
Open an account or try a Demo account.
Cryptocurrency in India
India which is the most populous country in the world after China has experienced a large growth of cryptocurrency users. The largest users are residents in the age range of 25 to 40 years. They spend millions on cryptocurrency trading.
According to a report from India's largest exchange WazirX, the company experienced an increase in users of more than 125% in the past six months. Another exchange, CoinDCX, their company experienced a user increase of more than 85% in the first quarter.
Trading volume on the WazirX platform estimates that between $ 19 – 20 million daily trades have occurred. Of the total volume, 89% came from India. And most users are those who are under 30 years of age.
Meanwhile, Coin DCX reports daily transactions of between $ 20-25 million in daily trading volume. With 75% of investors coming from India. Meanwhile, the average age of users is between 25-40 years.
This report does not include those of other major exchanges such as Coinswitch, ZebPay, and Unocoin.
Cryptocurrency in India legal or illegal?
In 2018 the RBI banned the use of cryptocurrency. The central bank of India prohibits all banks from using virtual currencies and trading cryptocurrencies on local exchanges.
At that time the Special Secretary of Economic Affairs formed a committee to study how to regulate AML / CFT as consumer protection.
But recently the ban was lifted by India's supreme court on March 5, 2020. According to the Supreme Court of India that the prohibition on the use of cryptocurrencies is disproportionate and that virtual currencies are not causing the harm that the RBI had feared.
With the decision of the Supreme Court of India that overturned the decision of the Reserve Bank of India ("RBI"), it is currently a green light for the use and trading of cryptocurrencies in India.
It is for this reason that the growth of cryptocurrency investors in India will be further enhanced in the future.
Cryptocurrency exchange platform in India
Although India's Supreme Court has lifted a cryptocurrency trading ban on the RBI, the platform's use is only for reliable exchanges. This, of course, is for consumer protection so use only registered exchanges.
Choosing a cryptocurrency trading platform in India for security reasons is to choose the ones that are top exchanges and those that get positive reviews from the users.
Some of the exchange platforms that are chosen by users are WazirX, CoinDCX, PECEX member, Kraken, Unocoin, ZEBPAY, Localbitcoins, BitBns, GIOTTUS, and BuyUcoin.
WazirX which is one of the top exchanges in India offers a platform for android, IoS mobile, windows, and Mac applications.
CoinDCX which uses a web-based platform and is also available for Android supports more than 100 cryptocurrencies.
Kraken is a global exchange that is also one of the exchanges in India that supports both android and web-based platforms, you just need to go through four registration steps to start trading.
Pecexmember uses a trading platform for the android app, which can be downloaded on the google play store.
Unocoin trading platform supports IoS and android.
ZebPay trading platform supports Android and IoS.
LocalBitcoins is an international company and controls the lives of many people. you can find cryptocurrency through this platform.
Bitbns is a company that claims to use a platform that supports Android and IoS.
Cryptocurrency development company in India
The development of cryptocurrency in India at this time is predicted that more financial institutions will adopt or allow customers to deposit with cryptocurrency.
After 2018 the RBI banned cryptocurrency trading, but in 2020 after the Indian Supreme Court lifted the ban, this will be an open door for cryptocurrency growth in India.
Based on information obtained from economic times that several banks have opened up to customers to fund accounts with cryptocurrency. These banks include State Bank of India, ICICI Bank, HDFC Bank, and Yes Bank.
Besides, more and more cryptocurrency exchanges will offer cryptocurrency trading and will compete with incumbents.
Referring to Ambcrypto that there is already a new exchange Cryptobiz exchange which will become a cryptocurrency platform that offers customers several services, in particular, the purchase and sale of one or a series of cryptocurrencies that are listed on the Cryptobiz index.
This is probably only the beginning, and it is still possible to expand further with the appearance of other new exchanges.
Cryptocurrency committee India
The inter-ministerial committee (IMC) is the agency that provides ideas on the prohibition of cryptocurrency trading. Because digital currencies such as Bitcoin can be vulnerable to being exploited for illegal activities because they are not centralized so that no authority becomes a middle ground when conflicts occur.
Citing the news in the Economic Times published on 23 July 2019. It was reported that the Committee made recommendations to ban any cryptocurrency, perhaps exchanges, investors, traders, and other financial intermediaries, issued by foreign private companies.
The Committee proposes that breaking this rule should be considered a criminal offense.
The committee proposed a draft law requiring that any direct or indirect use of cryptocurrency is punishable by a fine or a minimum of one year to 10 years in prison. If there are repeated violations, he said, he could face imprisonment of up to five years to 10 years with a fine. The fine in question could amount to three times the loss.
RBI Governor Shaktikanta Das argued that the use of cryptocurrency by private companies would be able to damage and destroy macroeconomic and financial stability. According to him, currency issuance is a function of sovereignty.
Cryptocurrency broker India
The rise of cryptocurrency trading is giving new colors to the world of investment and finance. Forex and CFD brokers who previously only traded the currency market and other derivatives have now added crypto trading instruments.
Several brokers including old companies, such as Forex.com, FXOpen.com, TenkoFX.com, Etoro, IG, City Index, Swissquote, Avatrade now have added crypto assets to their platforms with crypto accounts.
It is easy in itself with the choice of a broker where a person in India can use the services of a foreign brokerage online, by registering a new account according to brokerage company regulations.
The advancement of cryptocurrency users in India allows its citizens to not only focus on one brokerage firm but will try to diversify their capital with other companies.
The role of exchanges also becomes important when a brokerage firm is chosen does not provide deposit and withdrawal options via local banks.
Top Cryptocurrency exchange India best
There are actually quite a few cryptocurrency exchanges operating or having a target market in India. There are about 16 exchange companies in India. But we take only five as top cryptocurrency exchanges in India.
But of all these exchanges, of course, there will still be doubts about which is the best exchange place from various sides, security and also convenience, or an easy-to-use platform. Personal matters sometimes for some investors will be a consideration in choosing an exchange.
The 15 cryptocurrency exchanges in India are as follows:
WazirX.
PCEX MEMBER.
CoinDCX.
Coinmama.
Kraken.
Localbitcoins.
Unocoin.
AirTm.
Bitcoin ATMs.
Zebpay.
Coinswitch.
Colodax.
BitBNS.
BuyUcoin.
Giottus.
Paxful.
Top cryptocurrency In India
The ranking of the top cryptocurrency exchanges in India refers to the features and advantages offered by the company, the assessment may be different from other analysts' methods.
PCEX member

PCEX member provides cryptocurrency options such as BTC, LTC. BCH, ETH, and many more that use the Indian rupee. Other options for exchanging BTC are USD, USDT, and C2USD.
Excellent features of the PCEX member exchange:
Is a franchise business company with high liquidity benefiting investors and traders.
Buying Bitcoin with this exchange will not charge any hidden fees for buying. Only charge a Transaction Fee. There are no maker & taker fees or AMC fees like other exchanges.
Payment methods by wallet, net banking, credit & debit cards. Allow converting fiat currency to digital currency or vice versa all in one place.
The five-layer security system gives you little chance of being compromised.
There are plans to launch futures trading. So members can buy Bitcoin Futures.
User-friendly and fast, convenient interface platform for exchanging digital assets.
WazirX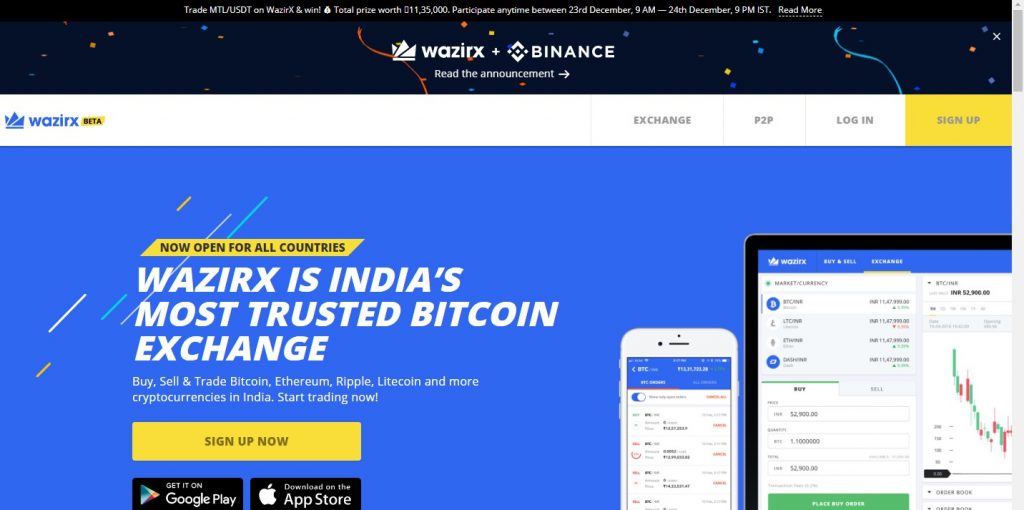 WazirX is the exchange that has seen the largest increase in trading volume in India after India's supreme court lifted the ban on cryptocurrency trading in India.
The company is also launching a WRX token that will support the growth of the company's ecosystem.
WazirX has also announced that the company has been successfully acquired by Binance, which is a major exchange in the world.
The best feature of WazirX is the following:
WazirX is one of the trusted exchanges in India, which strives to improve security for clients through routine security audits to maintain the highest standards of security and account safety.
The KYC process is fast only a few hours after registration is received, unlike most which take a day or two or more.
The Wazirx platform can handle millions of transactions in just a few seconds
A user experience that provides positive reviews through, a simple design and an uncomplicated trading platform interface.
CoinDCX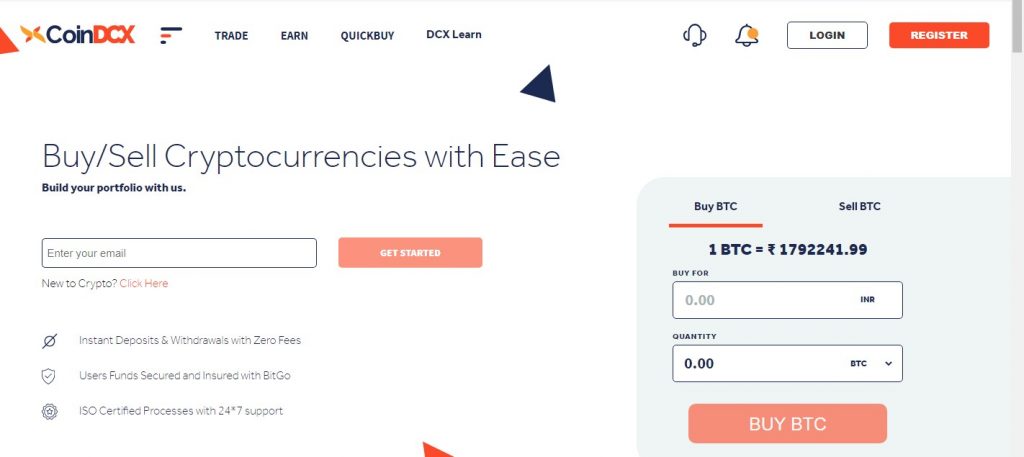 CoinDCX, including a popular cryptocurrency exchange in India, launched in 2018. CoinDCX supports INR as the Fiat currency and is the first platform to allow direct deposits and withdrawals from local bank accounts.
Supports 250+ cryptocurrencies, Bitcoin and Ethereumi, DASH, XRP, etc. Other payment methods can be done with UPI and IMPS.
CoinDCX has also seen a sharp increase in the volume of cryptocurrency transactions in India.
The main features of CoinDCX are:
The trading platform is easy for beginners and is also an available platform for advanced traders.
It supports INR currencies, deposits and withdrawals can use INR.
There are more than 250 tradable crypto assets, the customer is free to choose the one he thinks is the most profitable.
Utilizing 2FA authentication technology for customer security.
Provides 4 main services, spot market, margin, futures, and lend. Customers are free to choose which one is needed in one access.
BitBns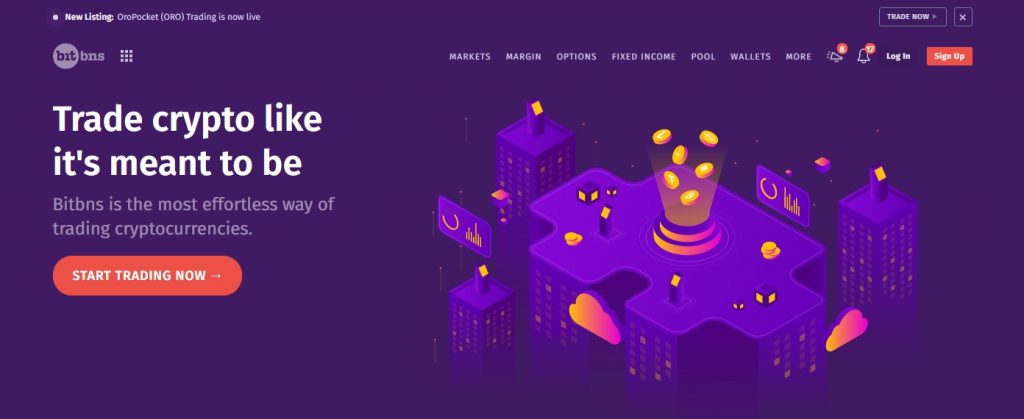 Bitbns is an exchange company based in India launched in 2017 by IIT graduates. Current press trading volume in this exchange reaches $ 5.06 million for 24 hours with a total user of more than 1.2 million. Bitbns supports more than 89 crypto assets that can be traded on this exchange.
Some of BitBns's main features are as follows:
Offers a high level of security on all customer transactions and funds with  KYC, 2FA, Fingerprint/PIN access.
It's free to create an account and store crypto.
Instant deposits and withdrawals with a platform that supports Auto Buy and Sell.
Trusted and Verified Network and 24×7 Customer Support.
Has main products Bitdropled, Ascent, fixed income plan, and BitBns academy.
ZebPay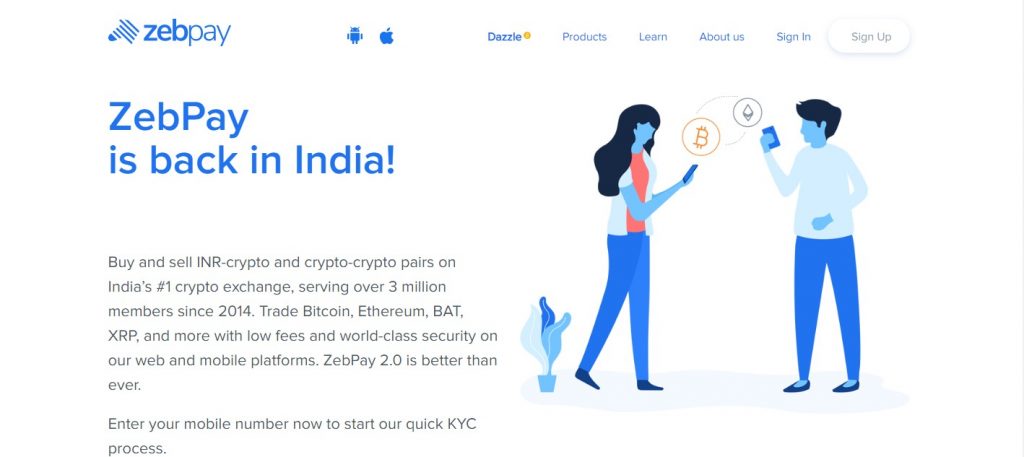 Zebpay is a cryptocurrency exchange in India that has served its members since 2014. Long before the RBI banking ban was enforced in 2018. Zebpay in the time had more than 3 million users and transactions reached $ 2 billion.
Even ZebPay has moved its registered office in Singapore. It was done to offer unrestricted service to Indian customers amid a regulatory crackdown at the time.
After the ban was lifted Zebpay continued its trading services in India. Offers BTC to INR pairs with zero trading fees. One which is the best feature that ZebPay supports instant withdrawals for users using Bitcoin to make instant payments.
Currently, ZebPay has served more than three million customers with a value of more than $ 3 billion.
Some of the superior features offered are as follows:
They ensure safe and stress-free trading for their users.
Clients can buy Bitcoin with Indian Rupees at competitive prices.
Improved security controls.
The ZebPay smartphone application makes it easy to buy Bitcoin. And has a Powerful API and endless crypto pair possibilities.
Supports an intuitive, user-friendly, and pro-impressed trading platform.
Conclusion
Even though the world in disaster with the Covid-19 pandemic. The growth of the cryptocurrency market is still an increasing trend in 2020 lately.
India, which is one of the largest countries, contributes to the volume of trade that has increased since the Supreme Court lifted the ban on cryptocurrency trading.
Although there may be a crypto trading tax. In the prediction that next year there will still be increasing to growth.
When several countries have tried to adopt blockchain technology to support their financial systems. India is one country that may also follow the steps in the development of this financial technology.
Although they may issue their own digital currency. The growth of crypto digital assets can still grow from private companies. And investor will choose the top cryptocurrency exchanges in India.
Ready to start trading? Open an account or try a Demo account.
Read more article

Blockchain news update november 2020

Scam list in Crypto, Beware before investing