What is AMP token?
October 28, 2021 by Martin Sukhor
542
Perched at #68, what is an AMP token? Maybe AMP tokens are not as popular as Bitcoin, Ethereum, and other cryptocurrencies. However, with the current market capitalization of nearly $2 billion dollars, the AMP token is worthy of consideration by crypto investors. The AMP token price at the time of writing is $0.04394, up 6.34%

Perched at #68, what is an AMP token? Maybe AMP tokens are not as popular as Bitcoin, Ethereum, and other cryptocurrencies. However, with the current market capitalization of nearly $2 billion dollars, the AMP token is worthy of consideration by crypto investors.
The AMP token price at the time of writing is $0.04394, up 6.34% in 24 hours. With a price that is still cheap, it allows this cryptocurrency to be one of the targets of crypto enthusiasts.
Best TenkoFX broker. Good forex Brokers with positive feedback of reviews from users
Open an account or try a Demo account.
AMP token explained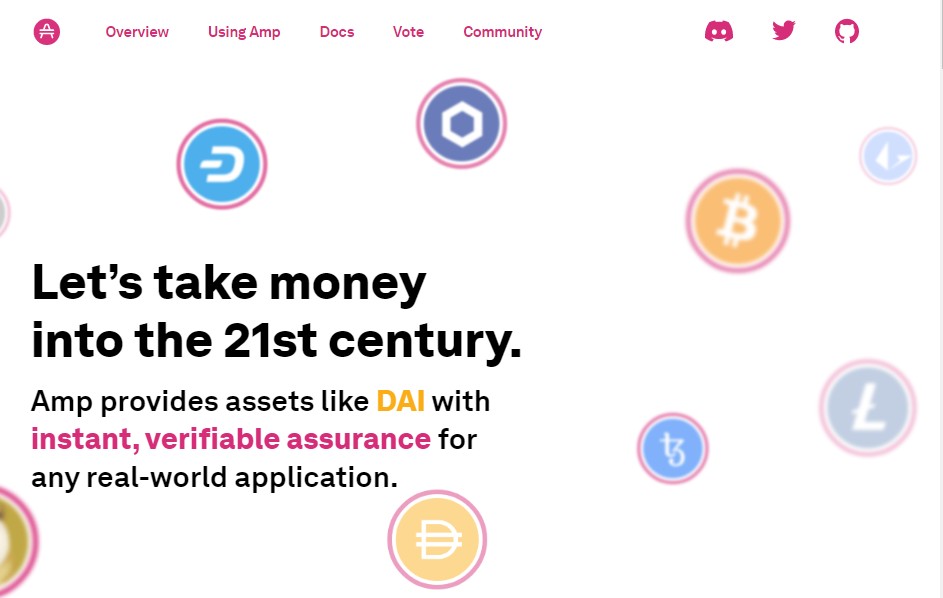 AMP is a decentralized collateral token built using the Ethereum blockchain network to enable instant and verifiable digital asset transactions for any kind of value transfer.
The AMP allows its users to use the Flexa network to secure transactions quickly and permanently in various transactions related to digital assets.
The AMP is an open-source standard collateral that allows instant and immutable collateral of any form of value transfer. While Flexa is a payment network that allows fast and anti-fraud payments for merchants worldwide.
By using AMP tokens as collateral pool, Flexa can secure payment authorization while underlying assets remain unconfirmed, and approve merchant transactions close to real-time
AMP token
AMP tokens are coins in the AMP ecosystem itself. The AMP Coin is an ERC-20 token that is created and runs on the Ethereum platform. Coin AMP can be sent and received and stored in digital wallets that support and are compatible with the ERC-20 token type.
Coin AMP is used as a collateral or payment medium on the Flexa network which makes it an instant and secure payment method. AMP can be bought and sold using fiat currency or other digital currencies.
The maximum supply of AMP is 92,547,638,199, while currently, it has reached 46% circulating in the community or around 42.23 billion AMP, the total supply of 99,213,408,535 AMP.
Who created the AMP token?
Talking about the founder of AMP, we find a person named Tyler Spalding who is the Co-founder of Flexa, while Flexa is closely related to AMP.
Flexa is a blockchain payment company based in New York City. Tyler Spalding has experience in cryptocurrency since 2011. He often preaches about blockchain technology and cryptocurrencies.
He is also the former Chief Technology Officer at Raise, the world's largest gift card marketplace with over $1 billion in sales and $150 million in venture funding.
AMP was created by Flexa, which is also the same payment solution. But Flexa does not work alone, they collaborate with ConsenSys, in building AMP.
How does AMP token work?
AMP offers versatile and interfaces for collateral so that it can be verified through the partition system or the manager of the collateral itself. Then from AMP brings the verified balance to the Ethereum blockchain.
AMP supports multiple collateral use cases and introduces the concept of a predefined partition strategy. As well as being able to activate special abilities where tokens can be staked without having to leave a real address.
AMP was created as a solution when someone transfers digital assets. The waiting time for confirmation sometimes takes a relatively long time. With AMP collateral, speed and security are guaranteed. So this is a solution for people who want to transfer faster.
AMP helps to decentralize risk for users so that they will not suffer significant losses. AMP designs are so flexible that they can last into the future. This one token also has an open license so managers can create their own custom collateral and interact with AMP.
When did the AMP token launch?
The AMP token was launched in September 2020. Although it is a new cryptocurrency, the price increase that has reached more than 400% makes this asset one of the top one hundred cryptocurrencies that are on the watchlist of many crypto enthusiasts.
AMP formed an all-time high on June 16, 2021, hitting the $0.1 level. It's not as high as Bitcoin or Ethereum, but its fantastic price increase implies an increasing volume of transactions with AMP tokens.
What is AMP token used for?
Basically, AMP tokens function like insurance for a transaction. This is to guarantee a transaction to be faster. So users do not have to wait several hours or days for transaction confirmation. By using AMP tokens as collateral, the risk of transaction delays is lower.
To perform these transactions, users use the Flexa network which guarantees faster transactions. While AMP tokens are acceptable collateral on the Flexa network, there are more than 25 crypto assets that have used AMP tokens as collateral for a transaction.
How to stake AMP token?
To participate in AMP stakes, guidelines are provided in the AMP help document. In summary, the following is the order of starting staking.
Keep in mind you must have a wallet that supports it. There is a choice of Metamask, Coinbase Wallet, Rainbow, Trustwallet and Argent.
The first step, go to Flexa Capacity https://app.flexa.network.
The second step, connect your wallet. Select the appropriate wallet that wants to use.

In the third step, use the"Explore" search bar to display staking options. A dropdown menu will display the amount of Amp available in your wallet.

In the fourth step, hover over the Amp available in your wallet and click the Stake button that appears.

In the fifth step, select which app to stake and AMP quantity, then click Continue. 

Once the transaction is confirmed, your staked Amp balance and rewards will update.
Maybe you want to make an AMP withdrawal or unstake. You can do that at any time but must use the same wallet when you started the stake.
Point to balance and click move, fill in the amount you want to unstake. The unstake process may wait a few minutes depending on the network conditions. Then click move to the wallet to continue.
How to buy an AMP token?
Register online trading platform
This is the first step by registering with an online broker that provides AMP tokens. Some things to consider when choosing an online broker are transaction fees, security, ease of interface, and asset availability.
Create a wallet to store AMP
If you want to store AMP for a long period of time, having a secure wallet such as a hardware wallet is better than storing a hot wallet that is vulnerable to hacker attacks. Hardware wallets such as Ledger and Trezor, but you need some money to purchase.
Make your purchasing AMP token
In the first step, you have registered with an online broker to buy AMP tokens, make sure that the broker is available AMP tokens.
It is possible and most brokers need some documents from you to verify and comply with Anti Money Laundering. You must comply with the KYC verification process.
If you successfully complete the verification, then you can start purchasing AMP tokens using the online broker platform. Make sure that you have funded the account to buy the AMP token and transfer it to the wallet that has been prepared.
Where to buy AMP tokens?
Maybe you need AMP tokens for collateral when you have a fast transfer schedule. Based on search results, you can buy AMP tokens through Coinbase and Gemini. Both clearly provide AMP tokens, another alternative is to buy through Bittrex, Uniswap, Gate.io, and Poloniex.
Buy AMP token Coinbase
Coinbase is a cryptocurrency exchange that operates in the United States, but its market reach has stretched across countries. You can buy AMP through Coinbase pro. They even offer $3 AMP for watching video tutorials.
Buy AMP token Gemini
You can also buy AMP tokens through Gemini, to get started you must register and follow the rules as described previously. Account verification, funding, and purchasing orders.
Buy AMP token Bittrex
Via Medium.com, Bittrex Global informed that AMP with ETH-AMP and USDT-AMP pairs have been available since July 13, 2021.
The pairs are available on the Bittrex market.
Buy AMP token Poloniex
The Poloniex online brokerage platform also provides BTC/AMP pairs. You can buy AMP using cryptocurrency on this exchange using market orders or limit orders. Limit orders allow you to get the best price with the risk of not being executed.
Buy AMP token Gate.io
The Gate.io trading platform provides the AMP/USDT pair where you can buy on a market order on the spot market or choose to use a limit order. You can use indicators for analysis where you want to get the best price.
Where to store AMP tokens?
AMP is a token that uses the Ethereum Blockchain network, it is an ERC-20 token so it should be compatible with various wallets for ERC-20. You can store your AMP token in MyEtherWallet or MyCrypto. Exodus, Coinomi, MetaMask, Trust Wallet, or imToken.
You may be able to store the AMP in a Gemini custodial account, or Coinbase. However, for long-term security protection, many recommend using an offline wallet that is not connected directly to the internet. The offline wallets, for example, are Ledger nano, and also Trezor.
Is AMP token a good investment?
To answer this question, crypto investors certainly have foresight as to whether the value of the AMP token will increase or decrease.
The AMP token is inseparable from the Flexa network. The company is rumored to be partnering with Amazon. If the rumors are true then it is highly likely that AMP adoption will increase. Which in effect can increase the value of the token.
At the moment AMP costs are still in the range of a few cents, but high adoption allows this token to provide high gains as well.
Flexa is also rumored to be partnering with NCR, Clover, and Incomm, AMC, Sheetz, and Shopify. Surely that's one of the good reasons for the growth of AMP.
However, technical analysis is also a concern, so investors get the best price view when they want to hold AMP tokens.
If we trace the price history since October 2021 the AMP price has never broken through the $0.06 resistance. Currently, AMP has entered the low price area which might become a support zone at the $0.04 price level.
On the other views, we see a decrease in market capitalization in AMP. Today it is down 9.25%. While the daily trading volume fell 64.51%. This is a fairly high number.
For us, this is a speculative asset, if Flexa succeeds in developing its network by working on a global scale, maybe AMP is a good asset.
AMP token price prediction
Wallet investor AMP price prediction
Wallet Investor predicts that AMP is a great crypto asset. In the next year, the AMP value will increase to $0.11059, and increase to $0.338 in the next five years or 2026, it will produce a gain of +706.68%.
Economic watch AMP token price prediction
Economic watch predicts the price of AMP tokens in early 2022 to reach $0.1, and they also believe that the price of AMP will be $0.5 by 2025.
CryptonewsZ AMP token price prediction
CryptonewsZ predicts the price of AMP at the end of 2021 to reach $0.110. Predicted 2022 price of AMP to reach $0.135. Continue the prediction for the 2023 AMP price gain price level of $0.164. The prediction for 2024 is that the AMP price will reach $0.25. And the predicted price of the 2025 AMP token will be $0.32.
Coinprice forecast AMP token price prediction
CPF predicts the price of AMP at the end of 2021 is $0.1132, then they predict 2022 at a price level of $0.1953, 2023 a price level of $0.3147. Next 2024 level price $0.4215. 2025 predicted price $0.4007.
Nasdaq AMP price prediction
A Nasdaq article attempts to make a prediction that the AMP token by the end of 2021 could reach $0.1 and that it may be worth more than 12 cents. Furthermore, the expert from Uptobrain predicts that the AMP token in 2025 can reach $4.
Conclusion
AMP token is a relatively new crypto asset, launched at the end of 2020, it has only been running for a year, so there is still hope that the value of the AMP will boom.
No one knows for sure whether AMP is a good asset in the future, but considering the main function of the AMP as collateral in a transaction to ensure speed and security. AMP adoption may go up and down in waves.
Note: This article is limited to personal information and opinion and does not constitute investment advice or solicitation, forex and Crypto trading is risky. You are responsible for your own investment.
Ready to start trading? Open an account or try a Demo account.
Read also