Scam list in Crypto, Beware before investing
November 7, 2020 by Martin Sukhor
49
Many scam list in crypto sites exists on behalf of cryptocurrency to trap people. Not only in the real world, but there are also many scam actors in the online world using internet media. These scams often provide such tantalizing promises to people with a high return on investment that they fall into the trap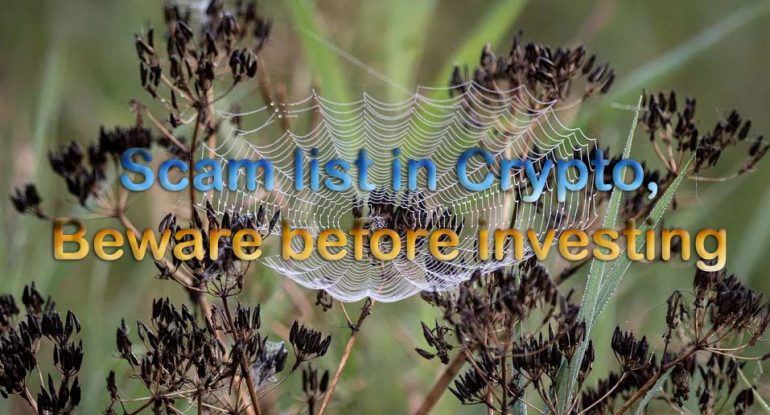 Many scam list in crypto sites exists on behalf of cryptocurrency to trap people. Not only in the real world, but there are also many scam actors in the online world using internet media.
These scams often provide such tantalizing promises to people with a high return on investment that they fall into the trap and are willing to spend some money in the hope of faster money growth.
As a cryptocurrency investor, you should definitely be aware of sites that offer high profits but behind it is hidden a scam, which one day can run off investors' money.
So before you decide to invest in the cryptocurrency industry, it's a good idea to read this article which discusses all forms of scams that might threaten you without you knowing it before.

Best TenkoFX broker.
Good forex Brokers with positive feedback of reviews from users and are regulated by IFSC Belize
Open an account or try Demo account.
Scam in crypto explained
The definition of a scam according to Wikipedia is news or information that uses electronic media designed to cheat as a way of committing fraud. Where the sender will take benefit from the information.
There are a variety of ways people carry out a scam, all of which have the objective of defrauding potential victims. Scams do not only occur in the forex, or the crypto world, even in the banking world there are also many fraud models to get profit from the victims.
Here the following are some scam models that you may have encountered:
Phishing.
Fake exchanges and wallets.
Old-school scams.
Fraudulent ICOs.
Bitcoin blackmail scams.
Impersonation giveaway scams.
Ponzi or pyramid schemes.
Malware.
Mining scams.
Pumps and dumps.
Phishing
Phishing, which comes from the word fishing. Phishing aims to lure people to voluntarily provide personal information without realizing it. From the information that was shared, the phishing actor committed a crime.
Phishers usually claim to be authorized parties or institutions. For example, the bank where you have an account. Or in this case your crypto wallet account.
They use fake websites or fake emails that look convincing. So many people have been tricked. So important to check the address bar if you find a suspicious website or email before giving an information private key or PIN etc about your privacy.
Fake exchanges and wallets
Don't think that your wallet or the exchanger you are using is safe from harm. Scammers can also target your account on your exchange or wallet.
This can be considered phishing, they create a website that is similar to a real exchange or a real wallet. So that anyone who logs in through the fake site or application will record all the important data provided.
If they can record all your information, then anything in your wallet or exchange account is being threatened and you could lose your funds.
The way they attract victims is that there is a bonus with a high value so that you are interested in getting it. Even other fraudsters have officially become legitimate applications on Google Play. So you need to be vigilant if you want to download a wallet application on Google Play. Check the truth first.
Old scams ways
This is an old scam by calling or emailing targets and claiming to be tax officials then convincing you to have tax debts to the government. So you send the requested amount of Bitcoin. Even if you don't send the amount they threaten to take legal action.
Or you receive a call from a stranger who will give you a large amount of digital currency if you help them transfer funds, you have to watch out for this scam model.
Don't be easy to trust if you get a call or email from a stranger.
Fraudulent ICO program
ICOs are one of the low-cost means of promotion but are often used by scammers to their advantage. There are even reports that more than 78% of ICOs are scams, some say 80% are scams.
We recommend that before buying an ICO, do in-depth research first because although there are several success stories of ICOs, many have become victims.
Bitcoin blackmail scam
This is a scam model of pretending to be a hacker sending information to your email address. They threaten to spread your personal information that is stored on your computer because it has successfully hacked into that computer.
You are asked to send an amount of Bitcoin if you want your information to be safe, he even tells you how to buy Bitcoin and how to send it.
You have to realize that this is a scam model, it cannot be proven that they really take control of your computer. They only scare you into sending the requested amount of Bitcoin.
Impersonation giveaway scams
This is a scam model that uses the impersonation of celebrities or famous people.
Scammers trick victims by posing as celebrities or other famous people by announcing that they are giving a free giveaway in the form of cryptocurrency.
They promise a double Cryptocurrency but that you must send a certain amount of Bitcoin first.
This type of scam is common on Twitter, as well as on YouTube. Where scammers disguise themselves as celebrities and convince victims to send Bitcoin quickly.
In their action, they are assisted by fake accounts or bots that provide statements that prove the giveaway is real.
Beware if you come across a giveaway by someone who claims to be a celebrity giving a giveaway but has to send Bitcoin first. Think of it all as a scam. Instead of being deceived.
Ponzi or pyramid schemes
Ponzi schemes are widely used in the HYIP industry, usually, scammers will promise high returns with several types of tiers.
Ponzi schemes are widely used in the HYIP industry, usually, scammers will promise high returns with several types of tiers from starting low investment until the biggest investment. The highest level with the highest capital gains high returns. How it works is usually, old investors get paid by new investors,
At first, they pay, but after reaching the profit target, the Scammer takes off the investor's money.
Malware
This malware was created by scammers to infect computers and steal data that will be sent to fraudsters. Even though cryptocurrency is very complex, malware is the biggest threat that infects your computer and steals the information you share.
This scammer will try to gain access to your wallet and can send Bitcoin to the specified address.
Mining scam
Scammers are bad people who will always find loopholes on how they can cheat. Although there are credible mining pools. There are many out there that are designed solely to commit fraud.
It's a good idea to find out with evidence that the mining pool is real.
Pump and dump
This method may rarely be encountered in crypto trading, but the theory is that players have large funds and plan to lure small traders.
The trick is to take big action to buy Bitcoin so that the price suddenly rises. Small traders who are afraid of losing momentum will buy. But what happened next was that the price fell again as a result of the scammer's order closing.
Why are people scamming people?
Usually, these scammers perform fraud to get money. But they use such ways that are detrimental to others. So that legally this is getting money through a way that is not allowed in terms of law and religion.
Actually, the scammers are not idiot, they are smart people, but they are not good people. They no longer heed the norms of religious teachings, so they don't care about others being harmed. Even though in religious teachings it is said. You don't fraudulently eat your brother's property.
However, some scammers may not be the money that is the only motivation, in business competition, a fraudster can cheat to make a competitor lose.
For example, someone makes false testimony on behalf of a certain company so that it will fall off its good name and thereby increase another company.
Why people get into trap in scam
Scam victims usually only realize when the scam perpetrator runs away from responsibility. Previously these victims felt confident that he would not be fooled because of their ignorance.
Again, an issue about money is the reason why people get scams. Most of the victims of the scam just imagine the results without thinking about the risks. Lack of vigilance is also the reason why people are easily trapped by scammers.
In this case, beginners are more prone to fall victim to fraud due to a lack of experience and being lured by a fantastic offer.
Worry or fear can also trigger a person to become weak and obey whatever the perpetrator asks. As a saying, if you want to control someone, spread fear in him.
For that remember with a quote, the higher the profit offered, the higher the risk that arises.
How to avoid scam in crypto
However in most cases you have to be careful if you receive an email on behalf of your crypto wallet is blocked, and you are asked to follow certain steps with the reason to open the block. Warning, it's better to forget the email and direct you to the wallet address via the correct web address.
Please note the status bar "https" is a secure address, but if it is only "Http" it means that it is not secure and prone to data theft.
If you receive a phone call and say you will give a bonus, or maybe your child has a drug case and you are asked to make it up. Don't panic, you have to think realistically because impossible for the police to ask for a ransom.
To avoid the cryptocurrency scam, below are some tips that you can practice for the security of your cryptocurrency.
Use 2-factor authentication. If your exchange account supports 2-factor authentication, please enable it.
Use a cold wallet. Cold wallets are not connected to the internet, they are safer from hacking, but you must place them safely.
Use only legitimate providers. Stay away from providers who haven't been tested.
Always check addresses. Make sure you visit the correct web address. Different from one writing alphabet, there will be different sites.
Save the private key securely. Don't share your private key with anyone, because it is your wallet access key.
What to prepared before investing?
As an investor, of course, you want to get portfolio growth from your initial investment. But remember that not all of your investments will pay off nicely. Even investors like Warren Buffet have suffered losses.
So that the initial preparation you have to do with a few tips below might help you determine your investment:
Collect all information where you will invest your money, by doing in-depth research whether it is a trusted or a scammer.
Manage your risk. Don't take out loans for high-risk investments. Spent money that affords to lose, according to golden rules.
You must be patient. Because no investment in a short time can make you rich.
Some scam list in crypto
Since 2017 there are many reports about ICO scams, even more than 90% are scams. By looking at this fact, only 10% of the many ICOs become legitimate. So if you are going to invest in crypto, you have to really do your research, to minimize the risk.
Hundreds of ICOs can be found, maybe even thousands, so you might meet one of them. The following are just a few examples of ICOs scam citing from cryptochainuni.
Abeonacoin.com, airbitclub.com airbon.io aircraft.travel, etc.  You can visit the list of scam ICOs, here
Final thought
Crypto investment is getting more and more lively and crowded these days.
There have been many novice traders who want to try crypto trading. If you want to trade based on MT4 crypto trading, choose an old and reputable company instead of a new company. Because of the old company in the industry they have more experience than a new company that has still not yet been tested.
Ready to start trading?
Open an account or try Demo account.
Related article 

What is litecoin cryptocurrency?