Tesla Cybertruck price
June 29, 2020 by Martin Sukhor
371
Tesla Cybertruck price, starts from $39.900. Tesla.Inc is the world's leading automotive company, now comes back with the latest Tesla Cybertruck product. Elon Musk constantly surprised automotive enthusiasts around the world. And this time, there is a Tesla Cybertruck 2020 that amazed fans at the Los Angeles Auto Show. The unique design and bulletproof claims

Tesla Cybertruck price, starts from $39.900. Tesla.Inc is the world's leading automotive company, now comes back with the latest Tesla Cybertruck product. Elon Musk constantly surprised automotive enthusiasts around the world. And this time, there is a Tesla Cybertruck 2020 that amazed fans at the Los Angeles Auto Show. The unique design and bulletproof claims are attractive features of one of Tesla's revolutionary cars.
Tesla was one of the first automotive manufacturers as a pioneer of the technology of electric cars. The Tesla Cybertruck 2020 is the fourth model in the Tesla lineup.
The unique design that is different from most trucks begins with Elon Musk's comments. He has a desire to produce trucks that are different from all the trucks that have been marketed after sedans to SUVs.
Tesla Cybertruck's price starts from $ 39,900. Then what about the Tesla Cybertruck interior, and also the features in it? Let's see together all things about this Cybertruck.
Best TenkoFX broker.
Good forex Brokers with positive feedback of reviews from users and are regulated by IFSC Belize

Open an account or try Demo account.
Cybertruck unique design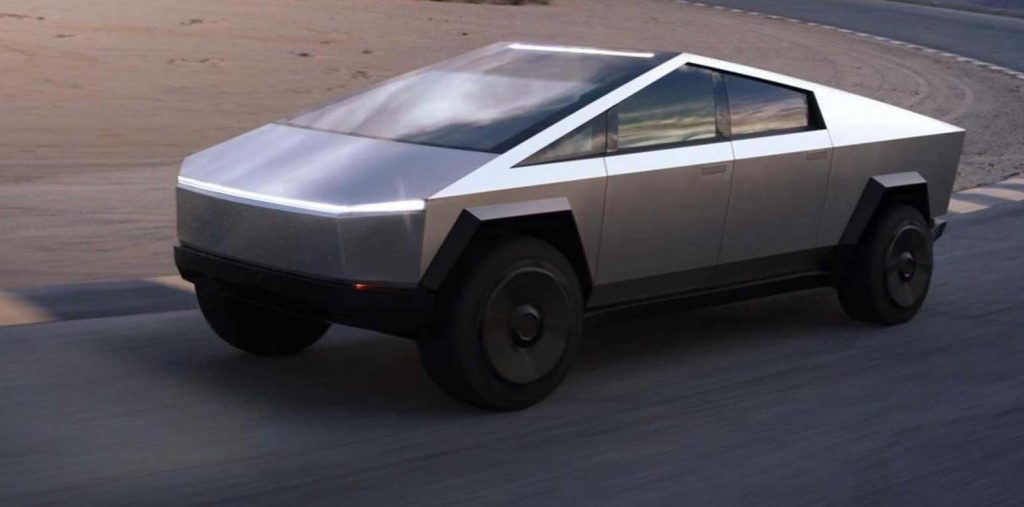 The unique design of the Tesla Cybertruck distinguishes it from most trucks.
Like a science fiction-themed vehicle in the film Blade Runner and the Back to the Future trilogy. Tesla launched his interpretation of this electric pick up truck. At first glance this car is like a cyberpunk car, in contrast to ordinary cars, there is no curve here.
Elon Musk has brought interesting features in its production car. This electric pick-up truck can accommodate up to six people. It is to be bulletproof (both body and glass). And has a ground clearance that can be adjusted according to its adaptive suspension.
For promotion, Elon Musk also invited the media and several people to try driving after launching at the SpaceX headquarters, in Hawthorne, California. With more than 200,000 units already ordered since the first appearance.
The exterior of Tesla Cybertruck 2020
Exterior Cybertruck uses a unibody construction called the exoskeleton of most passenger cars. instead of body construction found in pickup trucks. The construction uses 3x series stainless steel body panels 3 mm thick.
Therefore, the panel can only be bent in a straight line, resulting in a unique triangular design.
Front Exterior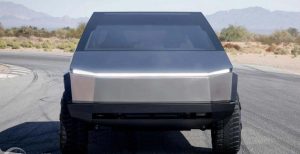 That unique impression was the first time I saw this exterior in front of the Tesla Cybertruck 2020. There are no curve accents to the grille like most other conventional cars. Because it uses battery power, it doesn't need a front grille to get air into the engine. Like another model.
Front Exterior I only see there are headlights that extend from side to side. The appearance is like RoboCop, without any fog lights or turn signals. The front hood is designed straight without any curve. No longer firm lines. But all dimensions of the vehicle get firm angles.
Only the contrast colored bottom bumper complements the truly futuristic look of this car.
Side Exterior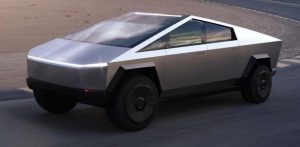 If you look at the appearance of Cybertruck from the side. The dimensions are very different compared to trucks in general.
The impression of a triangle can be felt when looking at the exterior side of the Tesla Cybertruck 2020. While the dimensions were made more compact and lower.
The Cybertruck body is designed from a very strong stainless steel alloy and is called bullet-resistant. This is shows In his first presentation, Musk hit the side door with a hammer. Although the window of the car cracked when it was thrown at a rock. Musk argued that this happened because the hammer blows on the side body caused the glass to lose its flexing effect.
Rear Exterior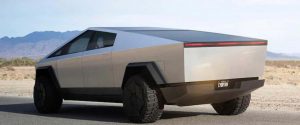 The design of the taillights is also unique, this distinguishes it from other pick-up trucks. If you look at the appearance, this car is like a sedan, but this car is actually a pickup truck with a rear body designed to be covered.
But you can open the tailgate with a capacity of up to 2.8 m3 and 2 meters of cargo space.
Tesla Cybertruck interior
The battery-powered Tesla truck interior carries a more frugal interior space than an engine using gasoline.
Dashboard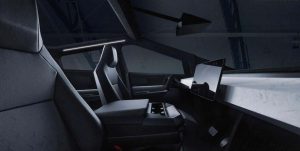 The appearance of this Cybertruck dashboard looks minimal with details, some images capture the dashboard display of the Tesla Cybertruck 2020. It looks simple and sleek. From the pictures seen Cybertruck pinned a 17-inch landscape-oriented touch screen. Different found on other Tesla models.
The entertainment system is predicted to bring the evolution of the Tesla infotainment system with the possibility that Cybertruck will get the latest software updates from Tesla.
Steering wheel
Adjusting the shape of the car body, steering with a rectangular shape will still be maintained until the launch. But there is still the possibility that many things can change until Cybertruck will be produced later. Possible steering the Tesla Cybertruck 2020 will get the latest multi-functional configuration.
Seat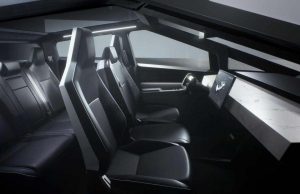 Design's interior cabin space looks more spacious with its overall dimensions. The cabin has enough space for six passengers despite only using two rows of seats. The first row can seat up to three people, where the seats in the middle can be folded and become an armrest for the driver and front passenger.
Tailgate Tesla Cybertruck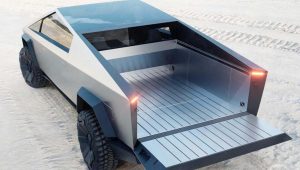 The tailgate storage behind is similar to a conventional pickup truck with 2 meters long and follows a sloping sidewall. One thing that is interesting is that this car has a choice of electric ATV contained in the purchase option.
You can open the back of the body and raise the ATV as well as fill the battery with plugs that are already available on the sidewall.
It also provides Camp Mode, where the tailgate can become a tent when you are taking this car for an adventure on your journey.
Tesla truck features
No many features have been revealed yet, but Cybertruck will use a self-leveling suspension that compensates for variable loads. This will make it easier for the driver when carrying heavy loads.
This technology can also be used to make a lower or higher ground clearance.
Another Tesla Cybertruck 2020 feature is a power inverter. This is to supply 120-volt and 240-colt electricity, allowing the use of power tools without a portable generator. Includes an air compressor to power pneumatic devices, charge the ATV in the back of the tub, to turn on the electric stove provided in Camp Mode.
Another feature of Cybertruck is that Elon Musk claims the car is capable of holding 9mm caliber bullets. All variants will also get the Tesla Autopilot standard device and have a variety of hardware for full-autonomous operation.
After its launch, even Tesla received a pre-order with the option 'full self-driving feature for $ 7,000.
Tesla Cybertruck 2020 test drive
Although the body seems heavy, Musk said that Cybertruck is able to go from rest to 100 km/hour in just 2.9 seconds for the highest variant.
Turning ability is very good. Tesla Cybertruck reportedly has the ability to pull loads up to 6,350 kg. And Its heavy body can carry loads up to 1,587 kg for all your equipment.
Tesla Cybertruck engine
This truck engine is similar to that applied to the Tesla Model S and Model X. With an inductive rear motor and Model 3 permanent magnet in front of the intermediate variant.
Other versions use a rear-wheel-drive system with a single motor. Or three motors with one motor on the front axle and two at the rear. Tesla offers three versions, several differences can be found. For example, the highest variant of the Three-Motor is able to go as green as 800 kilometers on a single battery charge.
Cybertruck is capable of releasing 800 horsepower and 1,355 Nm of torque to carry its heavy body.
Tesla Cybertruck specs
Tesla Cybertruck has three variants, SIngle motors, Dual motors, and Tri motors. Each of which has somewhat different specs. Although not yet in detail the following specs can provide an introduction to this vehicle.
Length x Width x Height : 5885 x 2,027 x 1,905 mm.
Wheel Axle Spacing: 3,807 mm.
Cargo Room: 2,800 liters.
Cargo Length: 2,000 meters.
Ground Clearance: 400 mm.
Pull Capacity: Single motor 3,400 kg Dual motor 4,550 kg Tri motor 6,350 kg.
Load Capacity: 1,600 kg.
Machine Type: Electric motor.
Maximum Power: ~ 800 hp.
Maximum torque: ~ 1,355 Nm.
Electric Motor Distance: Single motor 400 km Dual motor 480 km Tri motor 800 km.
Acceleration from 0-100 km/hour: Single motor 6.5 seconds Dual motor 4.5 seconds Tri motor 2.9 seconds.
Highest Speed: SIngle motor 175 km/hr Dual motor 195 km/hour Tri motor 210 km/hr.
Drive System: Single motor Rear-wheel-drive Dual motor All-wheel-drive Tri motor All-wheel-drive.
Front/Rear Suspension: Self-Leveling.
Tesla truck price
With three different variants, the Tesla Cybertruck is priced differently depending on the number of rear-wheel drive.
For the price of Cybertruck, a single motor rear-wheel drive is offered at $ 39,900. This model has a mileage of more than 250 miles. With a towing capacity of more than 7,500 pounds, and speeds from 0 to 60 mph in less than 6.5 seconds. Musk revealed that 17 percent of buyers chose this model on November 23.
The second variant model is the $49 .900 dual-motor all-wheel-drive with a mileage of more than 300 miles. Has a towing capacity of more than 10,000 pounds, and speeds of 0 to 60 mph in less than 4.5 seconds. Reportedly 42 percent of buyers have chosen this model on November 23.
The third variant model is an all-wheel-drive Tri-motor priced at $ 69,900 with a mileage of more than 500 miles. It has a towing capacity of more than 14,000 pounds and speeds of 0 to 60 mph in less than 2.9 seconds. Reportedly 43% of buyers chose this variant on November 23.
Tesla truck release date
When will this Cybertruck be released? according to some news that production will begin in late 2021, while the all-wheel-drive tri-motorbike version will be produced a year later, in late 2022.
However, the release date can be more powerful to reach consumers, because demand is far more than can be done naturally in space so it may take four years.
But Musk revealed that there might still be a tesla Cybertruck redesign because it would be produced in late 2021. If you want to order now then need to follow the step by step.
Conclusion Tesla Cybertruck 2020
The Tesla Cybertruck 2020 is a combination of an electric car with impressive towing capabilities and a unique Cyberpunk design. It looks like a vehicle in a Hollywood science fiction film with firmly curved corners. The features offered are still mysterious, although Musk said there is a technology "self-driving" prepared for this car.
Furthermore, Musk also stated the possibility of offering "smaller Cybertruck".
Because there are still many possible changes that may be made by Tesla to Cybertruck when it is produced later. Given its eccentric appearance and far from the word "conventional pickup truck", Cybertruck could be one of the most unique production trucks ever.
Are you a trader?
Open an account or try Demo account.
You must read

Does zoom have security issues?