Does zoom have security issues?
April 9, 2020 by Martin Sukhor
374
Does zoom have security issues? since the pandemic COVID-19 spread throughout the world, thus forcing many people to work from home. The Zoom application has become one of the options for conference meetings using, desktop or cellular as well as smartphones. Zoom is a communication application using video. The online meeting application is an option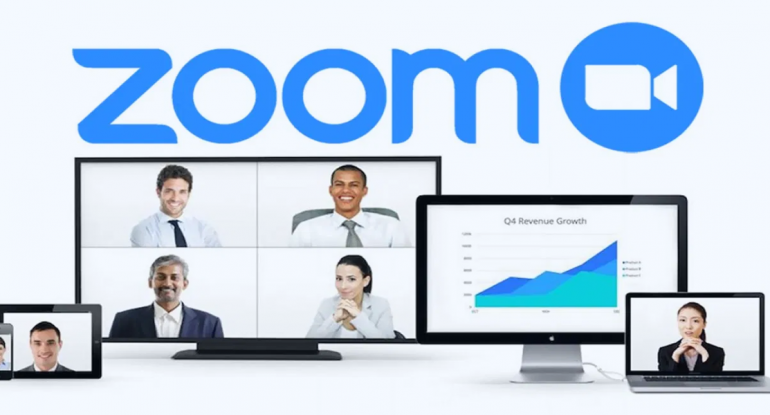 Does zoom have security issues? since the pandemic COVID-19 spread throughout the world, thus forcing many people to work from home.
The Zoom application has become one of the options for conference meetings using, desktop or cellular as well as smartphones.
Zoom is a communication application using video.
The online meeting application is an option for workers who are forced to complete their work at home or work from home because of the COVID-19 outbreak.
Generally, users use this application to conduct meetings with video and audio conferences.
This application, headquartered in San Jose, California, United States, was established in 2011.
And is used by various organizations and companies to conduct conference meetings for employees remotely. How to use Zoom, you need to download the app.
Work from home? trading with TenkoFX

An existing broker  with positive feedback of reviews from traders and are regulate by IFSC Belize

Open an account or try Demo account.
What are the Zoom Meetings?
 Zoom is a cloud computing-based video conferencing service.
By using the Zoom Application, you can have a virtual meeting of other people, either by video, voice, or both. One thing that makes it interesting is that all conversations via Zoom can be recorded for later viewing.
The Zoom application has good quality. Many of the companies that entered Fortune 500 already used the service.
When talking about Zoom, you will usually hear the following phrases: Zoom Meeting and Zoom Room.
These are all terms that refer to video conferencing meetings hosted using Zoom. Everyone can join meetings that invite you through a webcam or smartphone online.
Meanwhile, the Zoom room itself is a physical hardware arrangement that allows companies to schedule and launch Zoom meetings from their conference rooms.
You can also use this application for a small scale, but if you have a large company.
Then buy the premium service Zoom application to make it easier to accommodate your work from home.
This year the number of users of the Zoom application has a rapid development with the outbreak of the COVID-19 pandemic because many companies require employees to work from home.
Zoom has seen a surge of 2.22 million active users per month as of March 2020, and it is still possible to increase again. And Zoom app become competitor vs skype for reliability.
Zoom feature
There are a lot of Zoom Features that we can use according to the needs of both groups, jobs, and other things. Some even use the Zoom Meeting application to conduct Video Conference.
The following are the core features of the Zoom meeting application that greatly facilitate your online meeting conference.
One-on-one meetings

Hosts can have unlimited one-on-one meetings even with free packages.
You can also easily manage users who join your Conference meeting by using the Zoom Application.
Video group meeting conference

You can invite up to 500 participants if you buy add-ons for large meetings.
But the free package allows you to hold video format conference meetings for up to 40 minutes and up to 100 participants.
Using Zoom is very easy even with slow connections.
Sharing screen and Chat
Participants can meet in a one-on-one format or with large groups and share your screen with other participants so they can see what you see.
This is very useful for those who use Zoom for work meetings, presenting projects with clients, and others.
For participants also in Chat all users or also to other users privately.
This feature is very useful for discussions between participants who are present for meetings and conferences.
HD video and audio
By using this application, you do not need to worry about the results of images and audio.
Because the Zoom application has been supported by high definition quality or often called HD.
One other cool thing is, this Zoom application can also support up to 1000 participants and 49 videos on the screen.
Video Call Recording Feature

One more thing that is also cool from Zoom is that we can do Recording or record Video Calls.
Users can record meetings during an event with Zoom and save them on their respective devices or on a cloud account.
This is very useful for users who carry out Video Conferences where later the video will be uploaded again or edited to make it better before publication.
Security
In terms of security, the Zoom application has been supported with end-to-end encryption for all meetings that have been scheduled through the Zoom application.
This means they have implemented cryptography in the application so that only related people can read and follow the event.
Zoom also has password protection so that user security is safer.
Scheduling feature
Another cool application is the scheduling feature to start meetings.
In addition, you can also start a meeting through an Outlook, Gmail, or iCal account.
Team Chat
Chat with groups can be done easily.
You will easily find conversations, share integrated files, and archives that can be stored for ten years.
Thus it will be easy for users to make user calls to other users or groups.
You can use a computer or cellular device running an application.
You can download the Zoom application on iOS and Android devices.
Price of a premium Zoom subscription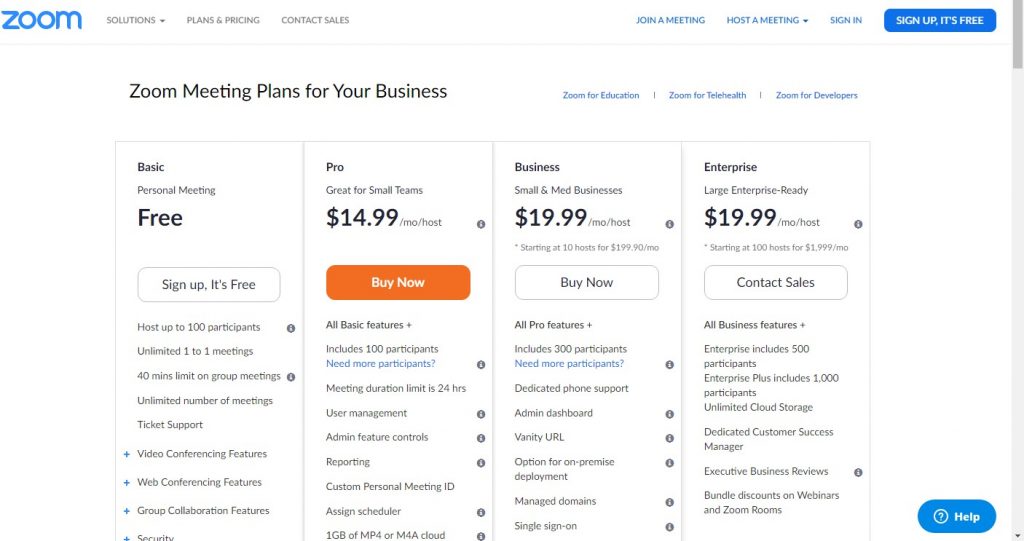 Zoom provides convenience free of cost or free for users who download this application via a laptop.
But for users who want to do greater and advance management, they must register first. Even more so if you want to have an online conference with more than 1000 people at the same time.
You can try using the Enterprise Plus package with prices starting at $ 19.99 per month. As for users in a small number of conferences, Zoom also has a free package.
But of course, this package has its own limitations such as participants who are limited to only 100 people in one conference, conference time 40 minutes, and restrictions on other features.
How to use Zoom
How to use Zoom windows or Mac is the following step
Open zoom client app.
Join the meeting use this app. Choose without login if you will. Or login then Join.
Enter the ID number and display name.
Select if you want to connect audio or video then click join.
Of course, you need to install app on the desktop, you can download a zoom meeting for windows free.
How to use zoom app on android
Open the Zoom mobile app, you can find the app in google play store.
Join meeting if you want without sign in, or login then tap to join.
Enter the meeting ID and display name.
Select to use audio or video if you want. then join.
Does zoom have security issues?
Along with the surge in Zoom users, it turns out many people are then questioned about Zoom security issues.
This, of course, is a big challenge to Zoom because hackers out there might try to exploit security holes that can be opened.
The following are issues related to the security of the Zoom cloud conference application.
Google bans Zoom
During the lockdown, many Google employees use Zoom to conduct video conferences, but recently there was a report quoted from Business Insider.
Google will no longer use Zoom for all of its employees because it is considered a security vulnerability.
A Google speaker stated that this application does not meet enterprise security standards, so all employees are required to stop using Zoom on all their computers.
Google has sent a message through Zoom to all their employees to stop using Zoom and use a google application called Meet
Indeed, Zoom's popularity has skyrocketed since the COVID-19 pandemic and lockdown, but many allegations of service security vulnerabilities are also in the spotlight.
Because of what might be called the "Zoom bomb," a hacker might get access to the Zoom meeting and try to mess it up.
And it turns out that Google is not the only one that prohibits using Zoom, another big company, namely Tesla, also prohibits employees from using the Zoom application due to security concerns,
Tesla asked its employees to rely on phone calls, emails, and texts instead.
The prize Bug hunter  appears
Hackers all over the world try to use it to hunt for prize bugs.
They are trying to find a potential gap of weaknesses in security Zoom technology
If they can find security weaknesses then sell them to the highest bidder.
A Motherboard report details pay increases for a weakness known as zero-day exploitation, and estimates hackers will sell the exploits for $ 5,000 to $ 30,000.
Another security issue related to Zoom
A third class lawsuit was filed against Zoom in California.
Citing information from Cnet, in the lawsuit, there are three of the most security issues raised by researchers
Facebook shares data.
End-to-end encryption of companies that are recognized as incomplete.
And vulnerabilities that allow malicious actors to access users. web camera.
Another security issue is the event where Calls are routed incorrectly through a server in China.
Zoom has acknowledged that some "mistakenly" video calls are routed through two servers that are whitelisted in China which should not have happened.
Some also mentioned that video call recordings are not protected and viewable on the web, and some schools banning teachers to use Zoom.
Step Zoom to prevent security issues
Related to security vulnerabilities in the spotlight, Zoom CEO Eric S. Yuan said he would focus more on privacy and security issues.
For that step, Zoom has brought former Facebook and Yahoo Chief of Security Alex Stamos on board. Stamos served as a security advisor to Zoom.
Zoom has also announced the formation of a chief of information and a board of security and advisors. The board will conduct a full security review of the company's technology.
Classroom security
A-Zoom spokeswoman said that the company would emphasize broader user education about existing security features and how to move to secure product use in the classroom.
Zoom recently changed the default settings for education users registered with the K-12 program.
It allows virtual waiting rooms and ensures that only teachers can share content in class.
Another step is that since April 5, they have activated the password and virtual waiting room by default for Free Basic and Single Pro users.
The company also continues to proactively educate users about how to protect their meetings from unwanted intruders.
Access to educate users is through tutorials and webinars to educate users to understand features and how to best use the platform.
FAQ
1. Can zoom be trusted?
Citing from blog.zoom that Security is the top priority by building the safest network with the most advanced security features.
2. Is zoom better than Skype?
For teams that are looking for holistic business solutions, Skype is better, for teams that often video chat and meetings, Zoom is right for them.
3. Where is the zoom data stored?
Results of Recordings Meetings and conferences can be stored on the local host device with local recording options.
Phone calls are stored in Zoom cloud with the Cloud Recording option (available for paying customers)
Final thought
If you have a large company that often holds meetings, during a pandemic, and working from home, Zoom might be the one application you want to use.
But you also have to realize, does Zoom has security issues?
We have filtered from several sources that there are indeed security vulnerabilities from the Zoom application.
If you are worried about privacy, another alternative is Meet from Google.
Open an account or try Demo account.
Related article

What airdrop cryptocurrency means? How it works?

Business continuity plan sample for manufacturing

Introduction to blockchain technology

What is digital economy in malaysia?