Bitcoin SV Cryptocurrency in history
April 14, 2020 by Martin Sukhor
233
Bitcoin SV is a hard fork of Bitcoin Cash or BCH, this is one of the cryptocurrencies which is popular. Although as new crypto but it is already taking place on 6th for now on Coinmarketcap. Launching in 2018 then become one of the popular digital currency. The nChain company has developed and designed the
Bitcoin SV is a hard fork of Bitcoin Cash or BCH, this is one of the cryptocurrencies which is popular.
Although as new crypto but it is already taking place on 6th for now on Coinmarketcap. Launching in 2018 then become one of the popular digital currency.
The nChain company has developed and designed the Bitcoin SV.
BSV is an attempt to restore the original Bitcoin protocol, which many crypto players began to recognize on August 16, 2018. SV is an abbreviation of "Satoshi Vision", which represents the goal of building a cryptocurrency conceptual like the developer of Bitcoin.
BSV is a product of the Hard Fork Bitcoin Cash which took place on November 15. NChain employees – Daniel Connolly and Steve Shadders are leading the management and development team.
BSV prices are very volatile, but these crypto-assets are quickly becoming one of the top 10 cryptocurrencies.
In terms of market capitalization and are actively traded on most exchanges.
Trading crypto with TenkoFX

An existing broker  with positive feedback of reviews from traders and are regulate by IFSC Belize

Open an account or try Demo account.
What is Bitcoin SV?
BSV or Bitcoin SV is a cryptocurrency from the results of the Bitcoin Cash hard fork. But it was introduced before the hard fork in August 2018.
And on November 15, 2018, Bitcoin cash was officially divided into two competing coins.
Namely Bitcoin ABC (Adjustable Blocksize Cap) and Bitcoin SV (Satoshi Vision). Cryptocurrency.
Bitcoin SV, according to the developer, aims to restore original Bitcoin values ​​and technology, decentralize, use crypto seriously as a method of payment and trade and increase network capacity.
The big-name behind Bitcoin SV founder is Craig Wright, who claims to be Satoshi Nakamoto. Wright was one of the figures involved in the Bitcoin Cash hash war together with Roger Ver.
The Bitcoin Cash hash war-affected currencies and caused huge market changes.
During the upgrade of the protocol, mining of BCHABC and BSV was fully mobilized and transferred from BTC to BCH, which caused a decline in the price of Bitcoin.
The major crypto exchanges have decided to list ABC as Bitcoin Cash (BCH). Because the chain has collected the most evidence of work.
However, many parties consider if the hash war between Bitcoin SV and ABC is not over.
Craig Wright and his followers have even stated that hash wars can last for months to years until one of the chains gives up.
How Bitcoin SV work?
As with the vision, Bitcoin SV is very similar to the original Bitcoin protocol.
Bitcoin SV aka BSV is a separate blockchain that is difficult to branch out from Bitcoin Cash.
From each block containing cryptographic hashes from the previous block, transaction timestamp, and transaction data, they are all stored in the BSV chain.
Miners will receive a new BSV after they have successfully validated the new block.
The way this works is by using computer processing to solve complex mathematical problems that are needed to add each new block to Bitcoin SV and its blockchain.
Bitcoin SV is also the same as Bitcoin, it can be broken down into 8 decimal places, where the smallest BSV unit is 0.0000000001 BSV.
The main advantages of Bitcoin SV (BSV)
Some of the advantages of Bitcoin SV are as follows
Scalability: The size of a digital currency block is greater than Bitcoin Cash as its parent, with a block size of 128MB while the original Bitcoin Cash (BCH) is only 32MB.
With a larger block size, BSV has the advantage of increasing the scale of the network and allowing more transactions.
Transaction Fees: BSV developers strive to minimize transaction costs.
With low transaction costs, they can make affordable transactions quickly even on a large scale, they believe this is the key to success for the new BSV cryptocurrency.
Network Development: Satoshi's view is implemented in BSV.
And implementing this BSV requires a lot of work so that Bitcoin SV experiences more changes compared to its competitors – Bitcoin ABC.
What makes the difference between Bitcoin SV and Bitcoin and Bitcoin cash?
It's a bit difficult to distinguish between Bitcoin SV, Bitcoin, and Bitcoin Cash if the terms of the three are very similar.
Besides that, there are similarities in their blockchain protocol. However, there are several aspects where they differ from the way of adopting SegWit.
Bitcoin Cash is designed to have a bigger block size compared to Bitcoin. And BSV advocates claim that Bitcoin Cash has abandoned the vision of the original Bitcoin.
Which is now an experimental alt-coin developer. And BSV is trying to preserve the original" Satoshi Vision ". This is the reason why Bitcoin SV has stability and clearer vision which will enable better scaling and more use by businesses in the crypto industry.
And Craig Wright's company, nChain, has a mission to pursue global adoption and use of company-level Bitcoin through Bitcoin SV.
The company believes that with a stable protocol and massive on-chain scaling it will make Bitcoin SV the basis on which businesses will "use and build on the Bitcoin blockchain."
Is Bitcoin SV good?
Bitcoin SV, although it's only been two years since hard fork, this crypto has proven to be popular with investors, and currently, BSV ranks sixth in CoinMarketCap.
Although the position had fluctuated, overall it was still in the top ten at Coinmarketcap. Indeed there are comments that are less supportive of this BSV, one of which is Vitalik Buterin.
Through a debate on tweeter, he stated that BSV was a disaster. However, he remains optimistic about several types of technology that are being developed.
Sadly, he does not have the same sentiment for BSV, which claims to have been made in line with the original vision developed by the core developer of Bitcoin.
Regardless of Buterin's statement, the development company is always doing the latest updates by increasingly updating the performance of BSV as the vision of Satoshi.
Of course, by always improve bug fixes, the system should be able to work better, and this can push the BSV value to be higher.
How do I get Bitcoin SV?
To buy Bitcoin SV (BSV) already available on many popular exchanges, you can check whether the exchange provides a BSV symbol or not.
One of the exchanges that provide BSV is exodus. What you need to understand is that every exchange sells BSV at different prices.
And just like with Bitcoin, BSV is also very volatile, so this is a challenge for traders to determine the best price for buying.
It would be more convenient if you choose a leading digital currency exchange when buying Bitcoin SV. Meanwhile, to save Bitcoin SV, you must choose a safe wallet.
For now, the best wallets include the names Atom, Centbee, Guarda, and Coinomi.
Unfortunately, the hardware wallet including Trezor and Ledger does not support Bitcoin SV.
Where can I use Bitcoin SV?
Following are some companies that use BSV payment instruments
COIN.HOST hosting company as a web hosting solution that has focused on privacy for the Bitcoin community since 2011.
CoinPayments, is a cryptocurrency payment company using an easy platform and offers API and prebuilt.
Playhub Casino.
I49 Seed Bank in Los Angeles, California, USA is an online cannabis seed bank.
The Guarda Wallet application is a lightweight wallet for Android and iOS to manage, transfer and receive cryptocurrency tokens.
35 ° Northern company for household food products for the best food products in the northern hemisphere.
HostingSSi is a hosting company, cloud hosting, VPS Dominios, and also Fundada from the real CEO Ramphy Rojas.
Coinhost is a hosting provider that serves the cryptocurrency crowd.
HostSailor.com,  VPS hosting, SSL certificates, Domains, Dedicated Servers,  and other complementary technologies.
GamerAll.com a gaming company launched in 2015.
Will BSV replace BTC?
Until now, BTC has not been replaced even by BSV.
The company Bitgo advises users to move their BSV to another wallet – or sell it to Bitcoin (BTC).
Seeing current developments, Bitcoin is still the peak of cryptocurrency and is difficult to replace.
But the growth of BSV also can not be underestimated, this is extraordinary, it only takes two years to enter the ranks of the top ten major cryptocurrency classes.
Bitcoin SV price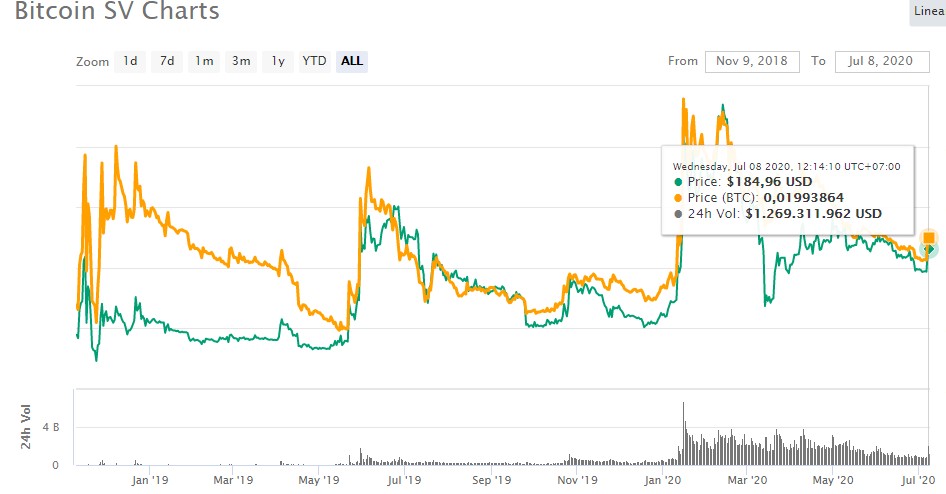 Please note that BSV prices on one exchange may be different from other exchanges.
If at the moment the price on Coinmarketcap shows at $ 186.03, the Investing and Tradingview chart shows $ 187.
Market Cap $ 3,418,709,263 USD, 509,499 BTC
Volume (24h) $ 3,172,338,810 USD 472,782 BTC
Circulating Supply 18,377,521 BSV
Max Supply 21,000,000 BSV.
Bitcoin SV exchange
Some of the exchanges that you can find Bitcoin SV are as follows.
Changelly.
Kucoin.
Huobi.
Poloniex.
Bittrex.
Final Thought
Bitcoin SV, with large market capitalization, for traders this is an interesting challenge because they can try to make a profit from changes in the value of BSV.
But if you want to try to make this a future asset, maybe after global economic conditions have recovered from the COVID-19 disaster, this is one of the attractive altcoins for Crypto investors.
Moreover, with so many companies using BSV payments, choosing cryptocurrency has several advantages besides potential profit.
You can use BSV as a cheap method of payment.
Open an account or try the Demo account.
Related article

Cryptography and network security

What is cryptoeconomics system?

What is digital economy in malaysia?

Introduction to blockchain technology

Bitcoin wallet service provider, how to secure?

What airdrop cryptocurrency means? How it works?